Hawaii Ulu Cooperative's Dana Shapiro honored as Social Impact Entrepreneur of the Year
Mar 10, 2021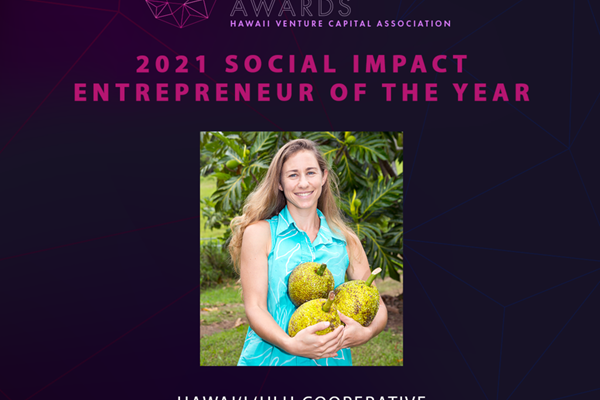 Our congratulations go out to Dana Shapiro, general manager and founding member of the Hawaii Ulu Cooperative!
Last month, Shapiro was recognized as Social Impact Entrepreneur of the Year in the 21st annual Hawaii Venture Capital Association's Entrepreneur Awards.
The Hawaii Venture Capital Association represents entrepreneurs, private equity firms and venture capital firms with global investment interests. Its Social Impact Entrepreneur of the Year Award celebrates entrepreneurs and companies showing leadership, innovation and commitment to being part of efforts to solve Hawaii's toughest problems. 
The story of Hawaii Ulu Cooperative's founding began in 2016 when Shapiro obtained initial grants from the U.S. Department of Agriculture, Hawaii Department of Agriculture, and Ulupono Initiative to develop a small processing facility and organizational capacity. Since then, the number of co-op members has grown along with their produce. The co-op now plays a vital role in the revival in popularity of ulu (also known as breadfruit), strengthening Hawaii's food security, and sharing the value of aloha aina through environmentally responsible growing and production techniques.
In 2019, Hawaii Ulu Cooperative successfully processed 92,000 pounds of ulu and was connected to 85 member farms representing 4,000 trees. Pivoting its operations last year to respond to the pandemic, the co-op partnered with community organizations to develop the #ONO4ULU COVID-19 Relief & Response Campaign. Efforts by the campaign's member organizations resulted in the distribution of more than 60,000 pounds of ulu and other fresh produce to families in need, with an additional 3,170 pounds of food donated to the Hawaii Food Basket directly through its website. In all, a remarkable achievement and success!
With Hawaii's reliance on imported food estimated to be 80-90%, the carbohydrate-rich ulu's reemergence as a popular—and tasty—food source has occupied an important place in our state's food-sustainability future. Ulu is a delicious replacement for many imported starches such as rice, wheat, corn and potatoes, and helps support Hawaii's goal of building greater food system resilience and equity. Ulupono Initiative is committed to supporting organizations such as Hawaii Ulu Cooperative to improve the Islands' quality of life, local food security and sustainability for a more resilient future.
Learn more about Hawaii Ulu Cooperative's story and role in Hawaii's food-security future by checking out Ulupono Initiative's series of features spotlighting local agriculture. Click here to read them.
Visit Hawaii Ulu Cooperative's website at www.eatbreadfruit.com.
Read profiles of the winners and finalists of the annual Hawaii Venture Capital Association awards in Hawaii Business magazine.