Our Team
Kathleen Rooney
Director, Transportation Policy & Programs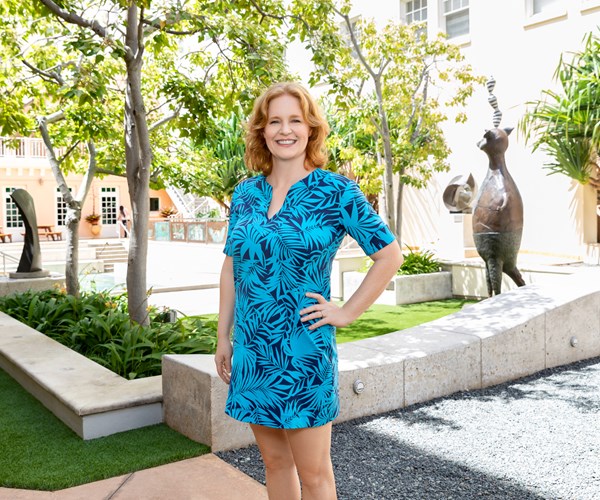 All levels of government in Hawaii have made these amazing climate change commitments — of which transportation is increasingly a larger part of the problem. I'm happy to join Ulupono Initiative where I hope to support policies that help people easily and conveniently use multimodal options in their daily lives and programs and investments that help make this transition happen faster. The sooner we all shift our travel choices, the faster we meet these important community and sustainability goals!"
Katie is Ulupono Initiative's lead on transportation-related policy and programs aimed to expand Hawaii's choices for cleaner, multimodal transportation, while helping to make them more accessible and affordable. Her current portfolio of projects includes rightsizing parking policies, getting more transportation choices and options on the ground, accelerating the electrification of transportation, and ensuring that our transportation policies and programs support larger community goals around cost-of-living issues, climate change, and health. Of particular note, Katie has helped advocate for the reform of costly parking mandates in Honolulu, supported more than six different "quick build" installation projects, helped fund the Hawaii Bike Challenge that included more than 600 cyclists participating in the event, and managed Ulupono's groundbreaking work on documenting the costs of our vehicle economy and dependence, tallying almost $22 billion per year.
She brings 15 years of national experience in transportation and planning, combining both to advance community visions and goals in many diverse communities in more than 20 states across the nation. For example, using a combination of analytics and storytelling, Katie helped two West Virginia towns strategize around health, leading to two trail program implementation grants. She also helped to conceptualize a resiliency center in Washington State, operationalize multimodal accessibility metrics in Florida, and develop a statewide transportation demand management framework for New York State.
Prior to joining the Ulupono team, Katie served as a project manager of Renaissance Planning in Orlando, Florida, and as a senior manager at ICF International in Washington, DC.
Katie holds a master's degree in public policy from the University of Maryland and a bachelor's degree in political science from Tulane University in New Orleans.
Outside the Office
Katie is a proud owner of a cargo electric bicycle, showcasing both electrification and multimodal strategies that can help propel us towards more transportation choices in the future.