Our Team
Amy Hennessey, APR
Senior Vice President, Communications & External Affairs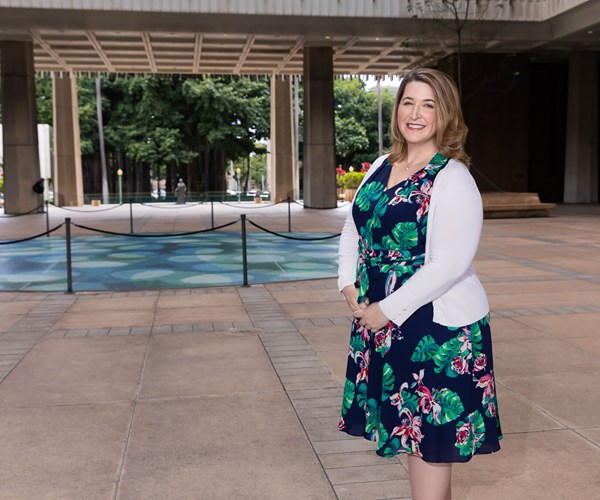 It is extremely gratifying to know the work we are doing will have a positive impact on the lives of our friends and neighbors. While it can be challenging, I've been able to work with wonderful people throughout the state who share our vision for a more self-sufficient place to live."
Amy serves as the senior vice president of communications and external affairs, providing strategic counsel to Ulupono Initiative's internal team and external partners. She oversees all areas of strategic marketing and communications, government affairs, and community partnerships in support of achieving the mission-driven firm's goals and objectives. Amy is also responsible for building relationships with focus-area leaders and other internal/external partners. She is a member of Ulupono Initiative's management team.
Amy has lectured at the University of Hawaii at Manoa and has more than 20 years of experience in corporate, nonprofit and agency public relations. She earned her Bachelor of Arts in Journalism/Public Relations from UH. Amy is an accredited member (APR) of the Hawaii chapter of the Public Relations Society of America (PRSA Hawaii) and has served as the professional advisor to the UH chapter of the Public Relations Student Society of America since 2002. Amy holds the distinction of being a 2007 member of Pacific Business News' Forty Under 40 class and a 2008 Pacific Century Fellow. She was also named PRSA Hawaii's 2012 PR Person of the Year and a Woman to Watch in the 2015 Pacific Business News "Women Who Mean Business" Awards.
In addition, Amy is actively supporting her belief in access to education and healthy communities through her service on the board of directors for Helping Hands Hawaii and the University of Hawaii Alumni Association, as well as the Regents Candidate Advisory Council and a co-organizer for the annual Manoa Forum.
Outside the Office
Amy collects cow memorabilia, including several milk bottles from Hawaii's former dairy operations.