Ulupono's Micah Munekata honored at PBN's 40 Under 40 celebration
Sep 22, 2022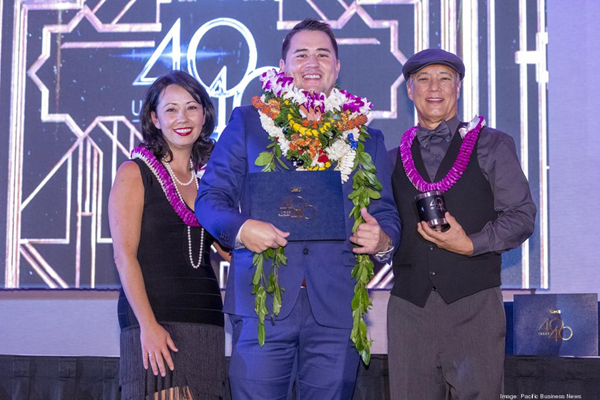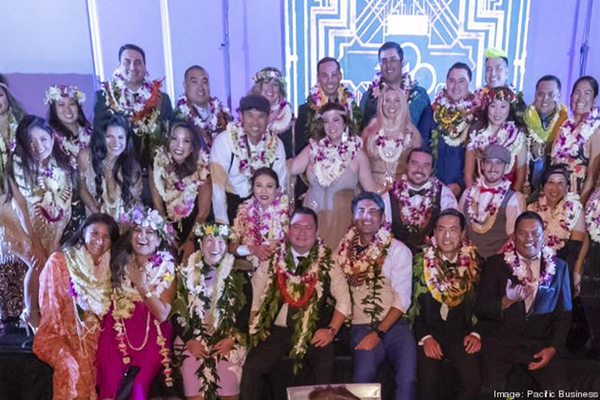 Caption: Traci Ihara, left, director of Hawaii station operations for Alaska Airlines, and Dennis Brown, right, president/CEO of Big Brothers Big Sisters, present 2022 40 Under 40 Honoree Micah Munekata, director of government affairs of Ulupono Initiative, on Aug. 25, 2022, in Honolulu. Photos by Pacific Business News.
Our very own Micah Munekata, director of government affairs, was recognized as a member of the Pacific Business News 40 Under 40 Class of 2022 at the publication's recent celebration on Aug. 25. This year's gala dinner was a Roaring 20s-themed evening filled with fun and fellowship amongst honorees, their guests, and members of Hawaii's business community.
"I am truly humbled to be a part of this year's 40 Under 40 class," Micah said. "It was an honor to receive this award with so many other distinguished awardees. I am so grateful to work at home in Hawaii and with so many great people along the way."
Micah was selected for the significant impact he has made throughout his career in the community, especially within the agriculture sector. He joins an alumni roster of more than 900 young professionals who have been recognized for their professional contributions since the event began in 2000. 
A greatly valued member of our team, Micah has been with Ulupono since January 2020. Over that time, he has built upon his extensive experience in government affairs to support all of Ulupono's focus sectors: local food production, renewable energy, clean transportation, and management of freshwater resources. In particular, he applies his passion for local agriculture to strengthen and grow the industry in the islands while addressing food insecurity and resilience of our food system.
Before joining Ulupono, Micah worked as a legislative coordinator for the Hawaii Department of Agriculture, where he assisted in the development of the state's first Interagency Biosecurity Plan. This plan protects Hawaiian agriculture, environment, economy and health. Micah also served as the director of government affairs for the Hawaii Farm Bureau Federation, where he researched agriculture obstacles and formed strong relationships with local farmers and ranchers to identify legislative priorities. His efforts resulted in the acquisition of county, state and federal grants to support local agriculture.
Congratulations, Micah, on the honor!
Pacific Business News hosts 2022 40 Under 40 event: PHOTOS >>