National Drive Electric Week gets rolling this weekend!
Sep 22, 2022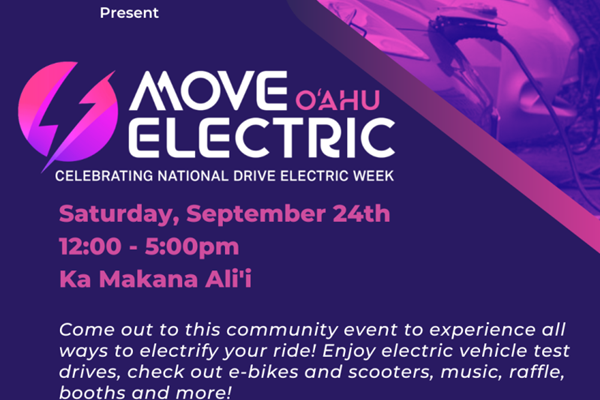 Test drive an EV at in-person events statewide
If you've been considering an electric vehicle, National Drive Electric Week is the perfect time to explore your options. It runs from Sept. 23 to Oct. 2, 2022, and there are a handful of events happening here in the islands for residents to get all the information they need about benefits, purchasing, ownership, charging, and more.
"National Drive Electric Week is a nationwide celebration to raise awareness about the power and accessibility of moving electric," said Tabbi Knudson, mobility and equity coordinator and clean cities coalition director at Blue Planet Foundation. "This doesn't just mean switching to electric vehicles — it also means using other forms of electric transportation such as bikes, scooters, motorcycles and buses. While Hawaii has made substantial progress on actions to reduce fossil fuel usage, we must decarbonize our ground transportation to effectively combat climate change."
Electric vehicles, commonly referred to as EVs, are gaining in popularity in the Aloha State, which is reflected in a recent milestone.
"The state has surpassed 20,000 EVs, which means they now make up approximately 2% of total light-duty vehicles," said Greg Gaug, senior vice president of investments and analytics at Ulupono Initiative. "Sales in Hawaii have grown 30% year after year, which is a result of a growing demand and interest. There are also now more than 25 EV buses across the state."
In addition, EVs are approaching 10% share of new cars sold, meaning nearly one out of every 10 cars sold is full-battery electric or plug-in hybrid.
Gaug added that he has noticed several other EV trends, including policies relating to federal EV tax credits, state funding for an electric vehicle supply equipment (EVSE) rebate, an eBike rebate, state implementation of a heavy-duty EV rebate, and state and county commitments to transition to an 100% electric fleet by 2035. EV manufacturers are also expanding their offerings and improving technology, which is lowering battery and up-front vehicle costs.
There are several benefits to driving an EV:
Save money on gas and maintenance, lowering the cost of living
Better for the environment, lower greenhouse gases
Healthier — no exhaust pollution, less noise pollution
Fun to drive
Come see for yourself!
If you'd like to learn more about electric vehicles, mark Saturday, Sept. 24, on your calendar for Ride & Drive events at the following locations:
If you can't join an in-person event, there is also a free webinar on Oct. 1, during which you can get all your questions about EVs answered.
A big mahalo to Drive Electric Hawaii coalition partners Blue Planet Foundation, Hawaiian Electric, the Hawaii Electric Vehicle Association, and others for making these events possible.
---
How is Hawaii's largest electric utility doing its part? Read Hawaiian Electric's 2022 Q3 Stakeholder Newsletter for an update. >>