Hawaii Ag Conference set for next week
Sep 22, 2022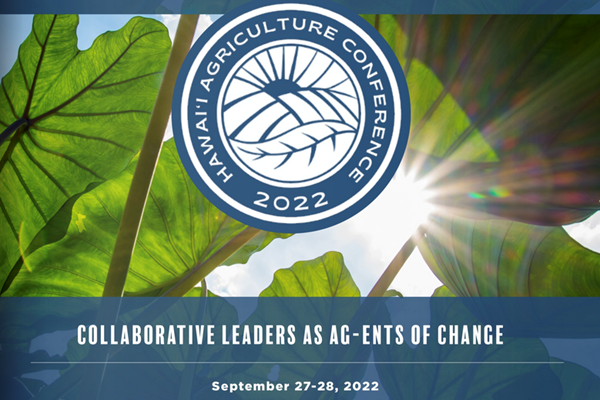 For the first time since before the pandemic, the Agricultural Leadership Foundation of Hawaii will host the Hawaii Agriculture Conference (AG2022) from Sept. 27 to 28 at the Hawaii Convention Center. The theme of this year's event is "Collaborative Leaders as Ag-ents of Change."
Plan to join agricultural leaders and stakeholders, including two of Ulupono's very own, for networking, learning and collaboration at this exciting event. This year's keynote speaker is Chad Buck, founder and owner of Hawaii Food Service Alliance LLC, HFA Logistics LLC, Hawai'i Secure Foods LLC, and Niihau Ahiu Provisions LLC. Three tracks are offered to participants, with experts from various agricultural businesses and organizations across the state.
Highlights of the conference will include:
Tuesday, Sept. 27: "Strong Roots: Understanding the producer experience to map a healthy future, a panel discussion led by moderator Greg Chun of Awa Kele LLC. The panel will describe a participatory approach to understanding the complex, interconnected factors currently influencing Hawai'i's agricultural system, including the challenges and opportunities from the perspective of producers. Key findings will be explored as well as early insights into areas of high potential for influencing positive, holistic change. Partners from the agricultural system will share how industry representation is reflected in this work, and identify areas of application and advocacy.
Panelists are:
Bailey Goldman, Principal for Community Health Systems at Engaging Inquiry LLC
Micah Munekata, Director, Government Affairs, Ulupono Initiative
Amanda Shaw, Executive Director, Oahu Agriculture and Conservation Association
Emily Taaroa, Owner, Punachicks Farm
Nathan Trump, General Manager, Island Harvest
Wednesday, Sept. 28: Financing Hawaii's Food Systems, a panel moderated by Amanda Shaw of the Oahu Agriculture and Conservation Association. This session will cover findings from Hawaii Investment Ready's recent research on Financing Hawaii's Food Systems. Discussion will focus on gaps between available financing and the needs of food system enterprises and insights gleaned from the data that may help to transform the existing funding landscape to one that is better aligned with Hawaii's long-term goal of food security. Hear government, philanthropic and private sector's response to the research and respective perspective.
Panelists are:
Jesse Cooke, Vice President, Investments and Analytics, Ulupono Initiative
Lisa Kleissner, Co-Founder and Board Chair, Hawaii Investment Ready
Nicole Milne, Vice President of Agriculture and Food Initiatives, The Kohala Center
Denise Salmeron, Business Programs Director, USDA Rural Development. 
Listen to Hawaii Public Radio, The Conversation: Hawaii Agriculture Conference to discuss food industry resilience >>