Want an electric vehicle charging station near you? Here's what to do right now.
Sep 24, 2021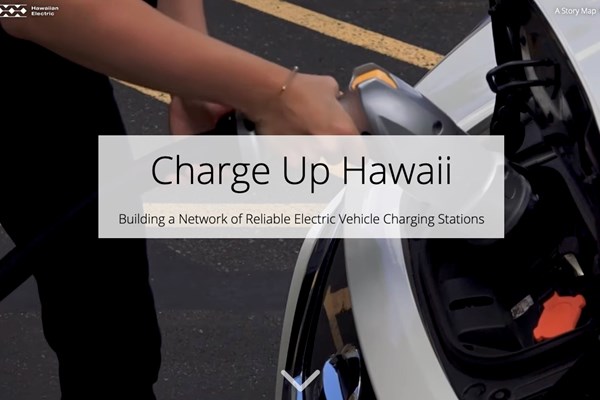 An excerpt from a Hawaiian Electric news release in August, headlined "Hawaiian Electric Launches 'Charge Up Hawaii' Webtool to Gather Customer Input on EV charging, Mobility Needs," shares:
" 'This webtool is a great opportunity for us to hear from our customers as we work to strategically locate EV chargers to maximize their benefit,' said Aki Marceau, director of electrification of transportation at Hawaiian Electric. 'As more and more drivers make the switch to electric vehicles, we need to ensure there are sufficient EV charging solutions to support that growth.' 
"Information gathered through the new webtool and other sources will help gauge community desire for EV charging as Hawaiian Electric looks to expand its EV public charging network. Hawaiian Electric currently owns and operates 25 fast chargers across five islands that were deployed as part of a public charging infrastructure pilot. The company hopes to eventually make the program permanent and add more chargers across its service territory to support the growing EV market in Hawaii…"
Read the full Hawaiian Electric new release here.
Want to power up the Charge Up Hawaii webtool and start dropping pins right now? Go for it! However, when adding pins to locations across the Islands where you'd like to see more EV charging stations, Hawaiian Electric suggests asking yourself the following questions:
Where do you spend most of your day when not at home?
Where are places you frequent for shopping and recreation?
Where are places you stop for at least 30 minutes at a time?
Are there convenient locations along your commute where you stop, wait or spend time?
"It is exciting to see Hawaiian Electric's efforts to incorporate feedback from community members on the location of future charging stations throughout the state," said Samantha Ruiz, Ulupono's director of regulatory affairs. "The 'Charge Up Hawaii' platform highlights that the utility is aware of the value in giving current and future EV owners a voice to express their needs and preferences when it comes to electrifying Hawaii's transportation sector. The electrification of transportation across the islands is one of the most immediate and impactful ways to sustain Hawaii's transition to a more resilient and renewable future. Any effort that provides the opportunity to contribute to the design and development of the infrastructure needed to support EVs is a step in the right direction."
Interact with and learn more about Hawaiian Electric's Charge Up Hawaii webtool here.