WAI second annual Innovations in Sanitation Convening focuses on accelerating cesspool conversion statewide
Sep 24, 2021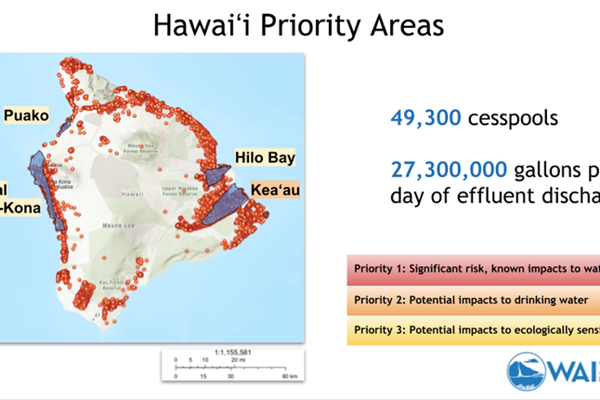 Psst! Want to know one of Hawaii's dirty environmental secrets? 
No other state in the country has a higher per-capita number of cesspools than Hawaii. We're not kidding. Cesspools statewide discharge around 53-million gallons of untreated sewage each day, creating a concerning situation with the potential of polluting ground water, drinking-water sources, streams and oceans. Recognizing this critical environmental issue, the State of Hawaii, with the passing of Act 125 in 2017, mandated the conversion of all cesspools by 2050.
Wastewater Alternatives and Innovations (WAI), a Hawaii-based environmental-solutions company concerned with the cesspool issue, hosted its second annual Innovations in Sanitation Convening in August 2021, offering a much-needed opportunity for key stakeholders, policymakers, technology innovators and agency representatives to learn about new and up-and-coming wastewater technologies. WAI's mission is to reduce sewage pollution and restore healthy watersheds by providing innovative, affordable and eco-friendly solutions to waste and wastewater management in Hawaii. 
Hawaii has more than 88,000 cesspools in need of conversion. Sanitation technology partners including Eljen Corporation, Fuji Clean, Ridge to Reefs, Cambrian Innovation and Biomass Controls PBC shared their products and solutions at the Innovations in Sanitation Convening to address Hawaii's unique cesspool challenges. Following partner presentations on new and innovative technologies, attendees joined the discussion to share their ideas about funding cesspool conversions statewide, improving regulations and introducing new policies to streamline the conversion process. One of the largest challenges for Hawaii in converting by 2050 is finding a way to offer solutions and financing to help residents achieve their conversion at the necessary accelerated pace.
Potential financial mechanisms discussed in breakout sessions included:
S. Department of Agriculture Rural Development programs (502 and 504 loans and grants)
City and County of Honolulu Rehabilitation Loans
Congressionally directed spending
Federal infrastructure funding (American Jobs Plan, 2021)
S. Environmental Protection Agency Clean Water State Revolving Fund (CWSRF)
Cesspool fees to direct funding toward low-income homeowners
WAI shared several policy recommendations and legislative priority bill ideas to incentivize and support advanced conversion. The bills included: 
Inspection of IWS Upon Point of Sale (POS) of property: "Home Purchase Protection Plan"
Wastewater Infrastructure Finance: "Property Assessed Cesspool Conversion"
Cesspool Fee & Subsidy: "Groundwater & Coral Reef Protection Fund"
Cesspool Conversion Tax Credit
Learn more about WAI's vision of helping Hawaii homeowners and communities manage the difficult process of upgrading cesspools and failing septic systems to new affordable and efficient systems that are better for the environment at waicleanwater.org.