Get ready to press the ignition on National Drive Electric Week, Sept. 25 – Oct. 3
Sep 24, 2021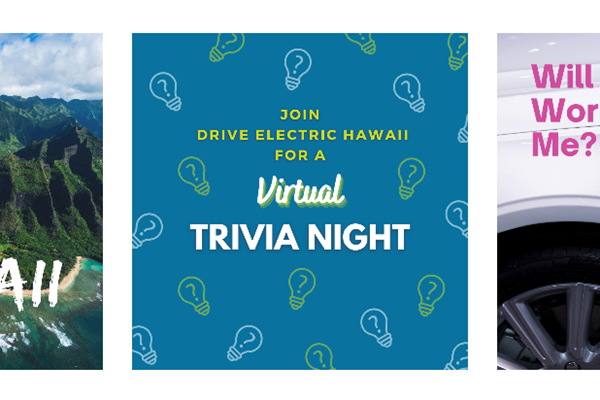 As a member of the Drive Electric Hawaii coalition, the Ulupono Initiative team is revving up for this year's array of events celebrating 2021 National Drive Electric Week!
Spearheaded this year by Blue Planet Foundation, National Drive Electric Week is being held entirely online, from Sept. 25 through Oct. 3, offering participants opportunities to engage in electrifying — pun fully intended — events ranging from discussions on electric vehicles (EVs) to a trivia night.
In addition, participants will have the opportunity to win a Hover-1 Alpha foldable electric scooter. Individuals can earn entries to win by attending events, following @driveelectrichi on Instagram, and using the hashtag #driveelectricweek. The more entries, the better the chances to cruise off on a Hover-1 Alpha electric scooter. Click here for more details.
EV advocates are witnessing an exciting shift in the automotive industry in recent years, with major announcements from General Motors, BMW and other automobile manufacturers all signaling that EVs are a key part of the future of personal transportation. Officials around the globe recognize the need to accelerate this transition, with a number of countries and municipalities setting goals to completely phase out gasoline vehicles. These include legislation recently signed by New York Gov. Kathy Hochul that effectively bans sales of new, internal combustion engine cars and trucks by 2035.
Click here to read about gasoline vehicle phaseout advances around the world.
"This is a terrific opportunity for anyone in the market for a new, or used, vehicle to learn more about how an EV can meet your needs as well as all the progress being made in the EV industry," said EV-owner Greg Gaug, Ulupono senior vice president of investments and analytics. "We look forward to hearing some great conversations about EVs and spreading awareness of the benefits to driving electric."
This year's schedule of National Drive Electric Week Hawaii events and activities includes:
The State of EVs in Hawaiiz

Saturday, Sep. 25, at 10 a.m.
Co-hosted by Drive Electric Hawaii and the Hawaii EV Association, this virtual event will focus on topics related to electric vehicles in Hawaii. Presenters will be discussing the importance of decarbonizing our transportation sector, multiple programs underway to address charging infrastructure in Hawaii, policy priorities for 2022 and more.
Tuesday, Sept. 28, at 6 p.m.
Join Drive Electric Hawaii for a FREE and FUN virtual trivia game night in celebration of National Drive Electric Week. Q: How awesome are you at trivia? Get your friends together and form a team or join in on your own and meet new people. Gift cards will be awarded as prizes to trivia night's top three teams. You're sure to have a great time sharing your trivia smarts from the comfort of your home.
Saturday, Oct. 2, at 10 a.m.
This virtual event is geared toward the EV-curious, sharing knowledge and first-hand accounts of how EV ownership works in a variety of living situations. Participants will hear from an EV expert sales consultant on things to consider when purchasing and EV, and are invited to sit in on a talk-story panel of EV owners with different living and charging situations.
To register for these events, or to get more information about National Drive Electric Week, visit ndewhawaii.com.