Hawaii Ag Conference calls on leaders to be 'Ag-ents of Change'
Oct 31, 2022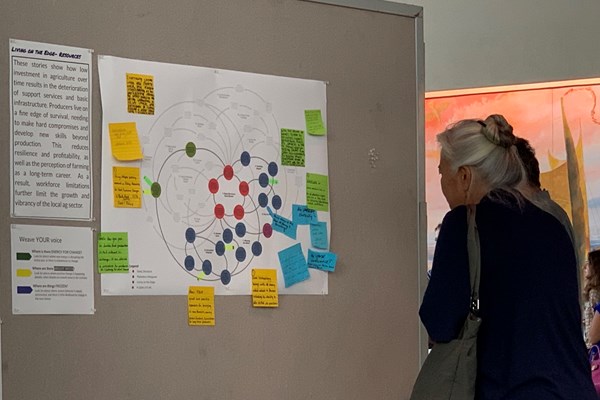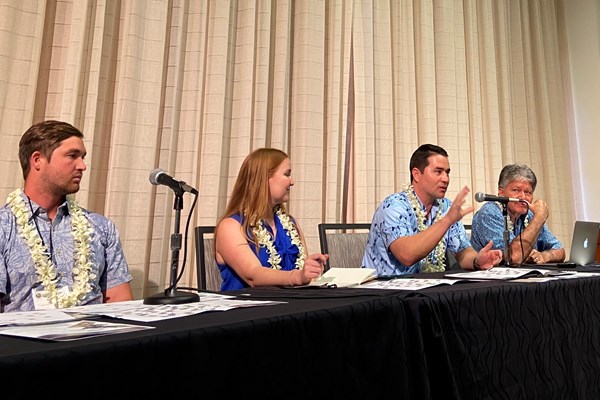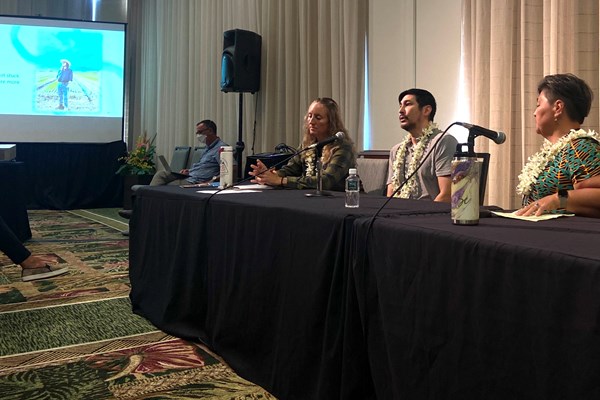 Representatives from throughout Hawaii's agricultural industry convened last month for the 2022 Hawaii Agriculture Conference, providing a forum for local food producers and others to offer insights and solutions to many of the current issues hindering agriculture in the islands. Typically held every other year, this was the first time the conference was held since before pandemic, and it provided the perfect stage to discuss challenges and opportunities among more than 600 individuals who signed up for the 2-day event, held Sept. 27–28 at the Hawaii Convention Center.  
Weaving the voices 
On Day 1, Ulupono Director of Government Affairs Micah Munekata, along with the Oahu Agriculture and Conservation Association (OACA), Engaging Inquiry, food producers from Hawaii Island, showcased "Ulana Na Leo: Weave the Voices," an ongoing effort to "map" the food agriculture system in Hawaii — prioritizing the voices of local farmers and ranchers. The needs of local producers and how systems thinking can help to improve the food system with a more robust, representative product were at the center of the discussion. Some of the important issues within this system include addressing missed opportunities for local farmers and how misunderstanding the complexities of the system can leave gaps in policy, resources and support. 
"When Ulupono Initiative was looking at how we can affect the food system, we wanted to make sure that this effort was grounded in the right way," Munekata said. "Identifying the challenges of local ag producers through direct interactions with actual producers' voices helps to identify the day-to-day threats to productivity and explore how to positively impact the food system."  
Local farmer and rancher voices are critical in identifying the next steps in this agricultural mapping system effort. Through these conversations, Ulupono plans to work with others throughout the state to further identify where there is momentum for positive change, bright spots that can be built upon and roadblocks that halt progress. The team will then be able to pinpoint opportunities for impactful action to help local producers. This project looks to provide a tool that organizations, groups, agencies and entities can use in any future strategies, actions, or plans.
The Ulana Na Leo extended team welcomes feedback on our preliminary working map as efforts continue through the end of the year to to engage local producers to validate insights and identify leverage opportunities. Email questions and feedback to communications@ulupono.com.
Building capacity 
Day 2 of the conference included a session with Ulupono's Vice President of Investments and Analytics Jesse Cooke, who joined representatives from OACA, Hawaii Investment Ready, The Kohala Center, and USDA World Development in a session on "Financing Hawaii's Food Systems." The discussion focused on addressing gaps between capital products and the needs of food system enterprises, ongoing partnerships that will support those needs and how funders can navigate constraints while innovating opportunities for producers.  
It was clear throughout the event that an overarching theme was the fact that impact-based change is needed to support and grow a more sustainable Hawaii. Cooke said one of the main issues is not the lack of funding but that agencies are not properly positioned to secure federal programs or grant money. This is something that can be alleviated with training.  
"Ulupono has moved from the finance lens to the impact lens," Cooke said. "In 2023, we want to work with state and county agencies to give them enough capacity to go after grants," identifying a tremendous opportunity, especially when considering available federal funding, if agencies have the people and resources to not only secure but manage those funds."
The future of ag production is in the hands of everyone involved in ensuring that the industry is supported and can flourish. Events like the Hawaii Agriculture Conference are important in bringing together the voices that will collectively make changes that affect local food production, which in turn contributes to a more sustainable Hawaii.