Ulupono Initiative's Katie Rooney recognized among WTS' Women on the Move
Oct 28, 2021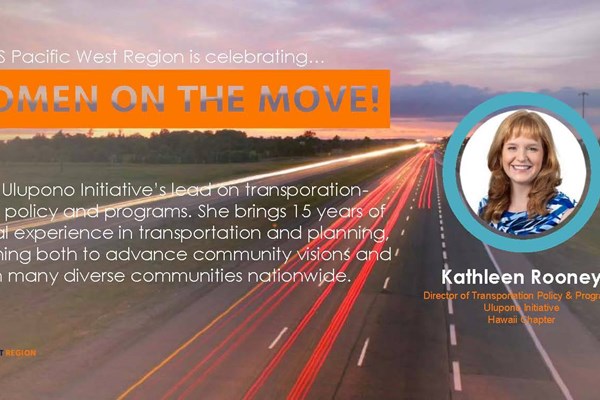 Ulupono Initiative is proud to announce the recent recognition of our own Katie Rooney as one of Women's Transportation Seminar's (WTS) Women on the Move!
Founded in 1977, WTS is an international organization focused on the inclusion and advancement of women in the transportation industry. The organization currently boasts nearly 10,000 members and 65 professional chapters throughout the U.S. and Canada. Hawaii is part of WTS's Pacific West Region, which also includes Arizona and California.
Through her work as part of the Ulupono team, Katie has advanced the discussion around Hawaii's need to shift to multimodal transportation and is a leading voice in changing the way residents relate to parking, a mission involving creating more spaces for people rather than merely cars.
"It's an honor to be recognized by WTS as one of this year's Women on the Move and to be part of this incredible cohort of leaders in the transportation industry," said Katie, Ulupono Initiative's director of transportation policy and programs.
WTS's mission is to attract, sustain, connect and advance women's careers, which helps strengthen the transportation industry.
"Improving our transportation systems requires a collaborative effort, with different voices involved in the decision-making process," Katie said. "With the support of WTS, we're seeing more women advance and take on key roles in the transportation industry, which — not long ago —  was uncommon."
For more information on WTS, visit wtsinternational.org.