A growing success in Honolulu, PARKLINQ expands its mobile-pay parking services to Maui
Oct 28, 2021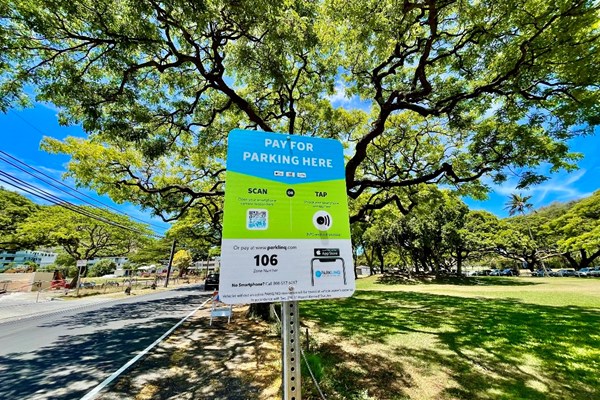 Did you know that PARKLINQ — a Hawaii company specializing in making it easy to find, reserve and pay for affordable parking from a mobile phone — estimates annual sales from paid parking spaces in Hawaii as more than $180 million, and identified an additional $30 million in unrealized parking revenue annually?
As nonprofit organizations discover through PARKLINQ their ability to have a piece of the paid-parking pie, the company's inventory of parking stalls has continued growing, supporting motorists and the environment. PARKLINQ's easy-to-use app offers motorists a birds-eye view of a graphical map helping them find, reserve and pay for a parking space located near their destination in advance. All motorists must do is use their smartphone to scan QR codes posted on PARKLINQ signage at select parking lots and pay touch-free without having to pump coins into physical parking meters or swipe a credit card.
An extra bonus? There are no upfront costs for nonprofit organizations wishing to add their parking to PARKLINQ.
PARKLINQ parking stalls are currently available in and around the Honolulu area and will be available soon for Maui motorists. On Maui, PARKLINQ is looking forward to kicking off its partnership with Maalaea Triangle Association, a nonprofit organization managing the parking lots at the Maui Ocean Center and Maui Harbor Shops, in early November.

"We're very excited to bring our smart parking technology to Maui so that residents and visitors can enjoy contactless pay-for-parking service to help generate much needed revenue for infrastructure improvements for the Maalaea Triangle Association," said Tyler Saenz, founder and CEO of PARKLINQ.
Part of the parking revenue will go toward improving the parking lot infrastructures registered under the PARKLINQ app. Maalaea Triangle Association recently signed a Low Impact Development agreement with nonprofit Maui Nui Marine Resource Council. This demonstration project for water management, funded by the County of Maui Office of Economic Development, will serve as a model addressing permeability issues and the redesign of parking areas. 
PARKLINQ also provides a valuable tool to better manage parking as a whole. Even with so-called "free" parking, there are hidden costs to parking. If not rightsized to the community, there can be significant impacts on housing affordability, costs of living, public health, quality of life, and other shared interests.
For more information about PARKLINQ, or to sign your nonprofit organization as a host to generate parking revenue, visit PARKLINQ.com. Read more clean-transportation news related to Ulupono Initiative here.