PUC looks to performance-driven regulatory model to incent innovation
Oct 06, 2020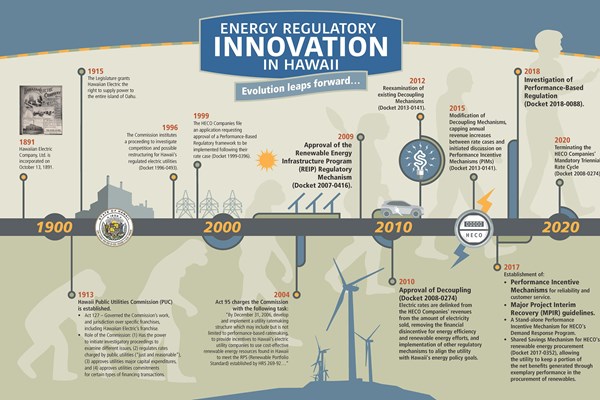 Download full infographic as a PDF.
In the last ten years there has been more innovation in Hawaii's regulatory landscape than over the last century. 
The electric utility business model has remained largely unchanged over the past 100 years. As a result, energy regulation has only marginally shifted to accommodate technological innovations in the electricity sector. Since the early 2000s, the Commission has implemented a number of regulatory mechanisms (i.e., decoupling, revenue adjustment mechanisms, and targeted performance incentives) to more closely align the utility with the state's public policy goals and the evolution of renewable energy technologies. 
In April 2018, the Hawaii Public Utilities Commission (PUC) opened a proceeding to examine a portfolio of performance-based regulation (PBR) tools to update the traditional cost-of-service regulation with a new regulatory framework that will encourage the Hawaiian Electric Company (Hawaiian Electric) to improve company performance in areas that are aligned with Hawaii's broader energy policy goals. The new PBR framework is intended to provide customers with more affordable rates while also expediting the adoption and integration of renewable energy technologies, including electric vehicle infrastructure and solar and storage. Improved performance in these areas, in addition to other identified outcomes by the PUC, will provide Hawaiian Electric with opportunities to increase company revenues and improve inefficiencies throughout the Company. 
After more than two years of collaborative working-group meetings, workshops, and briefings, involved stakeholders (including Ulupono Initiative) have developed,refined, and proposed a suite of regulatory mechanisms for implementation. These proposed mechanisms are now before the PUC for final review and decision making. 
During the final PBR technical conference hosted by the PUC in September, Ulupono Initiative President, Murray Clay, presented Ulupono's position for a comprehensive PBR framework, which included: 
Selection and implementation of the lowest (net present value) price energy solutions capable of achieving the 100% Renewable Portfolio Standard (RPS) requirement.
Providing incentives that ultimately result in the selection of energy solutions agnostic to utility or non-utility ownership.
Implementation of a series of PIMs. These PIMs are defined as follows: 

Renewable Portfolio Standard – Accelerated (Purpose: Reward the utility for accelerating the achievement of Hawaii's RPS goals)
Electrification of Transportation (Purpose: Reward the utility for expanding opportunities that support the clean transportation transition)
Shared Savings Mechanisms (Purpose: Reward the utility with a portion of savings generated from reducing expenditures from a commission established benchmark, while returning the remaining amount to utility customers)
While efforts prior to the Performance-Based Regulation proceeding have served as solutions to specific challenges faced by Hawaiian Electric and its customers, a more holistic framework for energy regulation in the state is currently underway, which will chart the course for Hawaii's energy systems for the next century. 
A final decision on performance-based regulation is anticipated to be issued by the PUC in December 2020.