Outdated parking policies failing Hawaii communities
Oct 06, 2020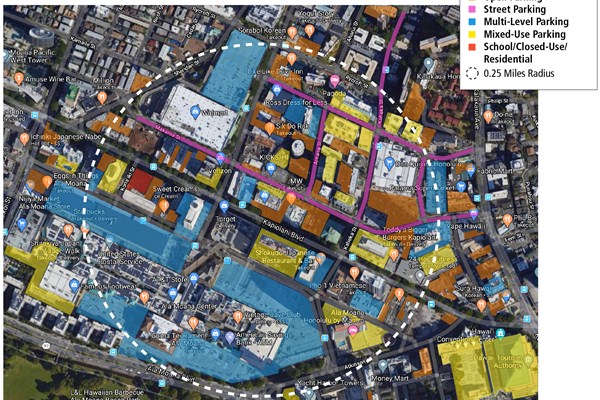 A single renter in urban Honolulu could be paying as much as 37% of rent on parking, according "The Costs of Parking in Hawaii," a recent report by Ulupono Initiative that sheds light on the often hidden costs of developing, operating, and maintaining common types of parking facilities in the state of Hawaii.
Communities are beginning to resist the tyranny of outdated parking policies that hinder progress on housing affordability, impede our ability to meet climate and environmental goals, and limit access to upward mobility for the next generation. Across the nation, municipalities like San Diego, Sacramento, Minneapolis, Portland, Miami, and Ottawa are actively exploring flexibility around how much parking is built and ways to improve parking design for more vibrant streets. 
In Honolulu, Bill 2 (2020), which was granted an extension last week by the City Council, updates decades-old ordinances and rightsizes parking requirements. Ulupono Initiative commends councilmembers for their commitment to passing a bill this year. Through dialogue with key community stakeholders, we believe the Department of Planning and Permitting has developed recommendations that provide sound technical solutions that address all vested stakeholders' concerns. As this bill moves to next month's meeting and then back to the Committee on Zoning, Planning and Housing, committee members can support these community efforts by considering an amended draft that reflects the department's work. 
Many Millennials and Zoomers (members of Generation Z) are growing disinterested in living in multiple-vehicle households in favor of more cost-efficient and economically practical transportation options such as rideshare (e.g., Lyft and Uber), public transportation, bicycling and, yes, walking. As they struggle with the ever-increasing cost of living, many younger families simply do not see the need for every adult member of their household to own a car, especially if that means they have to pay extra for what is essentially parking storage at their home or workplace — or both. 
This may no longer make sense on an island like Oahu where approximately 43% of households own one car or less, according to the U.S. Census 2018 American Community Survey, and cost of living is such a concern. Older adult households are also increasingly interested in shedding their car-based habits as they transition out of the workforce. 
Rightsizing and better managing parking provide opportunities to more dynamically utilize urban land for housing, retail and community needs (e.g., increasing demand for more people-oriented design and active transportation and living), instead of merely for vehicles or vehicle storage.
View The Cost of Parking in Hawaii report.
To learn more about Bill 2 or to urge the Honolulu City Council to move the measure forward, contact the councilmember for your district.