National Drive Electric Week drives EV education
Oct 06, 2020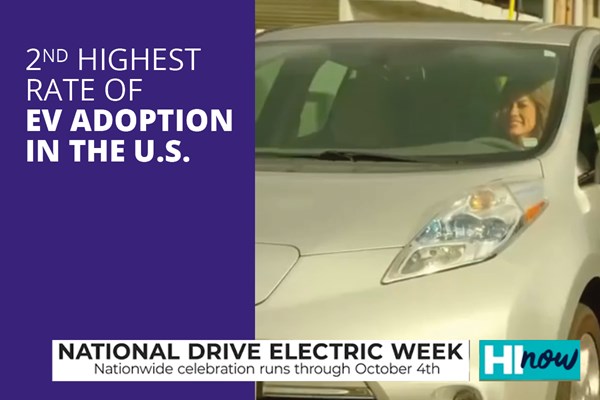 National Drive Electric Week (NDEW) wrapped up last week, with events across the United States held virtually, many for the first time ever, to adapt to COVID-19 safety and health requirements. Locally, Drive Electric Hawaii – formed in 2016 as a cross-section of private, nonprofit and government coalition members to promote the use of electric vehicles (EVs) –hosted several virtual events celebrating and bringing awareness to the importance of EV adoption. 
The first of these events was a Sept. 26 webinar offering valuable information for current and potential EV owners about the benefits of ownership, along with helpful tips for EV care and maintenance. Another local NDEW event, held on Oct. 1, was an interactive Electric Vehicle Trivia Night, which placed participants into teams and quizzed them on their knowledge of EVs, local policies, and other fun EV facts. Drive Electric Hawaii's final NDEW event on Oct. 3 focused primarily on remaining challenges to long-term EV adoption in the state.
Additionally, Hawaii News Now's HI Now TV program featured three segments helping promote NDEW events and the benefits of driving electric. Debuting on Sept. 28, the first segment, featured Lauren Reichelt of Blue Planet Foundation and Ulupono Initiative Senior Vice President of Investments and Analytics Greg Gaug discussing why Hawaii consumers should make the switch to EVs.
Consumers appear to agree. In August 2020, the number of passenger EVs in the State of Hawaii was 12,417, an increase of 2,512 vehicles (25%) from the same month last year, according to DBEDT Research & Economic Analysis Division's August 2020 Monthly Energy Trend Highlights report. This follows an increase of 29% in 2019 (from 7,650 in August 2018 to 9,905 in August 2019), and 23% in 2018 (from 6,216 in August 2017).
Segments on Sept. 30 and Oct. 2 featured Hawaiian Electric Director of Electrification of Transportation Aki Marceau and Hawaii State Energy Office Chief Energy Officer Scott Glenn on the subject of driving Hawaii's electrification of transportation. 
For Ulupono Initiative, NDEW is not simply an annual moment to acknowledge the financial and environmental benefits of driving electric, but also an opportunity to advocate for the advancement of Hawaii's renewable energy and transportation goals. At the same time, the observance enables celebration and exploration of all the ways driving electric, as part of a larger renewable energy and clean transportation strategy can help revive our local economy.
Statewide, we are greatly dependent on costly imported fuels for our transportation needs. This dependency continuously takes away needed capital from our communities during financial crises such as the current one generated by the global COVID-19 pandemic. Still, despite the numerous economic challenges created by the pandemic, there may be opportunities for us to change the way we do business and invest locally in our abundant renewable energy resources.
To support businesses and properties wanting to support the state's transition to renewable energy, Hawaii Energy is providing rebates for the installation of new EV ports and upgrading existing EV ports. With some businesses experiencing economic downtime due to the pandemic, upgrading and installing EV ports may be viable projects for them to consider, given the long-term benefits of doing so. According to a recent study conducted by Ulupono Initiative, shopping and dining locations were among the most popular charging spots for EV owners. Read "The Extra Mile: Why Electric Vehicles Make Sense for Hawaii's Economy, Environment and Communities."
State agencies are also seeing the economic and environmental long-term benefits of EVs and making the switch for their ground transportation fleets. All of these decisions are helping move Hawaii more quickly toward achieving its transportation and renewable energy goals.
Once again, National Drive Electric Week offered all of us and the public an opportunity to learn from industry leaders and gain insight into future trends surrounding EVs. Despite the global pandemic, significant achievements are being made at national and local levels regarding clean transportation and renewable energy. These changes, even if modest, move us forward toward an economically healthier, more self-sufficient and resilient Hawaii.
For more information about Drive Electric Hawaii, visit www.driveelectrichi.com.