Want to learn more about electric cars?
Nov 28, 2022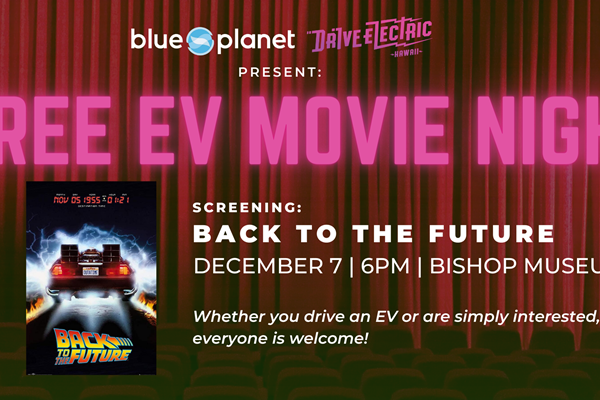 Grab your family and friends and join us for an intriguing movie night on Wednesday, Dec. 7, at the Bishop Museum to celebrate electric mobility!  
The EV Movie Night features the film "Back to the Future," along with several short films that show the growth of electric vehicles (EVs) in Hawai'i. It's the perfect opportunity to take a nostalgic trip back in time and into an exciting future to learn more about electric vehicles.  
In October 2022, the number of registered passenger EVs in Hawaii was 21,506, an increase of 
4,467 vehicles (26.2%) from the same month last year — greatly outpacing the rate of growth of all passenger vehicles in the state (0.8%).* 
The family-friendly event is sponsored by Drive Electric Hawai'i, Blue Planet Foundation, Ulupono Initiative and Hawaiian Electric. We encourage movie-goers to carpool or take public transportation when possible. Attendees will enjoy free admission and parking, along with light refreshments and goodie bags. The event starts at 6 p.m. in the Atherton Halau.   
Register today to reserve your spot to this community event. We'll see you there! 
For questions or concerns, please email STCH@blueplanetfoundation.org.