EPA boosts Hawaii's efforts to electrify school bus fleet
Nov 28, 2022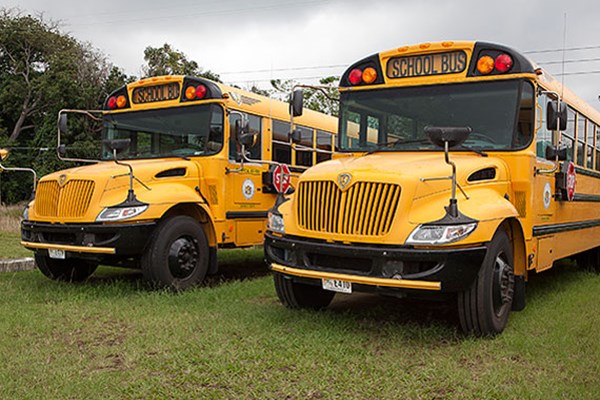 The Hawaii Department of Education (DOE) recently received news from the U.S. Environmental Protection Agency (EPA) that it has been awarded a $4.99 million grant to begin electrifying the department's school bus fleet over the next two years. The EPA's 2022 Clean School Bus Program Rebates will allow the Hawaii DOE to replace its traditional diesel-powered buses with 20 electric buses and five compressed natural gas buses. 
"We are very excited to begin modernizing our school bus fleets to use cleaner energy and further reduce the carbon footprint of our schools," said Randall Tanaka, assistant superintendent for the Hawaii DOE Office of Facilities and Operations. "Electric buses will help to reduce fuel consumption and carbon emissions to the immediate benefit of our communities and we thank our partners at the EPA for this step toward a cleaner and healthier future." 
Transportation service providers on Kauai, Oahu and Maui will operate and maintain the new school buses. The Hawaii DOE plans to include Hawaii Island in the 2023 application process. The 20 electric buses will be purchased for $4.58 million and the five Compressed Natural Gas models will cost $150,000. The grant also includes $260,000 for electric charging infrastructure on the three islands.  
"Updating our school bus fleet with electric vehicles is critical as Hawaii moves to clean, renewable energy," Sen. Mazie Hirono said in a news release. "This funding, made possible by the bipartisan infrastructure law, will bolster Hawaii's transition to electric vehicles while reducing the health risks of traditional diesel-burning buses to our keiki. I'll continue working to support projects like this that strengthen Hawaii's leadership in the transition to a clean energy future."  
Greg Gaug, Ulupono Initiative's senior vice president of investments and analytics, added: "We are excited that the Hawaii DOE has been awarded this grant that will go towards its transition from fossil fuel powered buses to electric buses. These zero emission school buses will help reduce our contributions to climate change while safely bringing our children to and from school without breathing harmful pollutants. This is a great step forward as the state continues to work towards reaching its clean energy goals and providing a healthier environment for our keiki."  
Read more about the EPA's Clean School Bus Program rebates >>