One year later, innovative Kaimuki parklets prove beneficial
Nov 30, 2021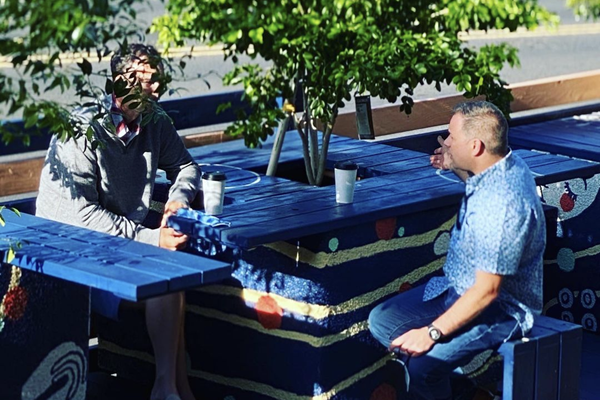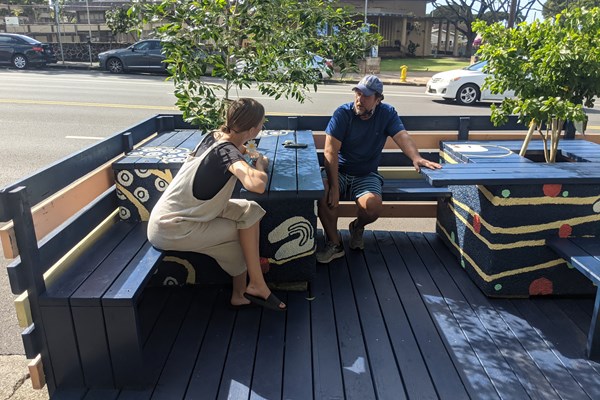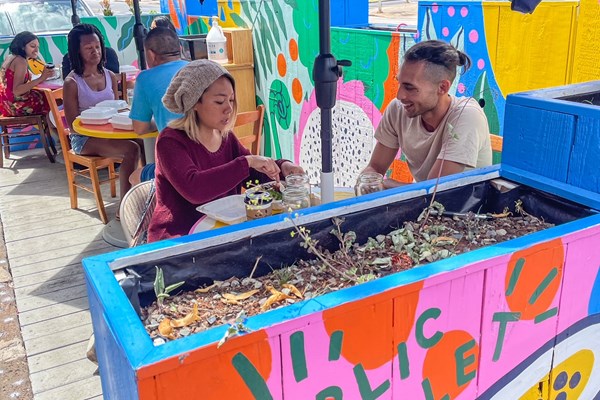 Throughout the COVID-19 pandemic, Hawaii restaurants faced challenging restrictions that limited the number of indoor-dining customers they could serve. In the months following the start of the pandemic, many food establishments rapidly pivoted to incorporate or boost take-out and drive-by pick-up service, while others, unable to weather the effects of the pandemic, were forced to permanently close their doors.
It has been said resilience starts by accepting a new reality rather than longing for what you had before. Several food establishments in the urban Oahu neighborhood Kaimuki accepted new pandemic-imposed challenges and welcomed parklets onto their streets. More than a year later, their openness to the innovative use of existing street parking spaces to give diners outdoor spaces to sit down and enjoy a meal has served them and the community well.
And with Honolulu and Maui restaurants set to operate at 100% capacity again beginning Dec. 1, many hope the Kaimuki neighborhood parklets continue, as they are proving to be good for business and the community.
"The COVID-19 pandemic demonstrated a great need for safe outdoor places for people to shop, dine and socialize," said Daniel Simonich, co-founder and board member of Better Block Hawaii, a nonprofit community development organization established in 2013 to reshape and reactivate public spaces to promote healthy and vibrant neighborhoods. "The Kaimuki parklets were introduced at an ideal time to address the concerns stemming from the pandemic, and they have continued to offer value in transforming businesses and the community."
Collaborating with Envision Kaimuki, Re-use Hawaii, Ulupono Initiative, local artists and the City and County of Honolulu's Department of Transportation Services — which granted permits — Better Block Hawaii converted Waialae Avenue parking spaces fronting Bean About Town, Juicy Brew and Surfing Pig into mini-park spaces featuring tables, benches, chairs, safety barriers and landscaping to create safe havens for customers to eat and mingle.
"Historically, outdoor spaces have been designed to accommodate cars as the priority," said
Kathleen Rooney, director of transportation policy and programs for Ulupono Initiative, who published a 2020 study on the "Hidden Cost of Parking in Hawaii." "The parklets are refreshing, new examples of initiatives that prioritize people in the use of outdoor spaces instead of being an afterthought."
Olivier Vetter, owner of Bean About Town, was the first to gain a parklet in front of his shop, which offers specialty coffees from around the world, pastries, sandwiches made with artisan bread from nearby breadshop, and onsite coffee roasting. The former manager of a Michelin-starred restaurant in London, Vetter admitted saying "yes" to everything and gladly welcomed the idea of a parklet in front of his shop.

"I love it so much," said Vetter. "Daniel (Simonich) worked to bring the parklets to fruition in a nice, diplomatic way."
Vetter believes parklets provide attractive spaces in urban settings and he'd like to see more of them to bring more people together. In addition to the social benefits they provide, Vetter said the parklets create more visibility for Bean About Town, which has been good for business.
Christina Hee, manager and chef of Juicy Brew, a plant-based food establishment in Kaimuki, agrees.
"The new parklets illuminated not only Waialae but a very dark and discouraging time," said Hee. "It brought our business back to life. It was a much-needed glimmer of hope for those who understood its purpose."
With limited seating space indoors, it was impossible for Juicy Brew to comply with state- and city-mandated distancing restrictions. Forced to close its doors for 14 months, Juicy Brew offered takeout and curbside pick-up food service only. It reopened this past summer for a month before reverting to pandemic operations and is now open for takeout only. A parklet outside Juicy Brew helped modulate business volatility and boosted revenues.
"After the parklet was installed, sales doubled and were consistent for three months, from February through April," said Hee. "The average daily sales were equal to or occasionally exceeded pre-pandemic sales."
Hee enjoyed collaborating with artist Kim Sielbeck, who painted the parklet's vibrant, colorful mural. The parklet itself has since become an extension of Juicy Brew, with a mural attracting new customers and making them smile. The parklet features three tables with two chairs each and comfortably accommodates six customers. Hee described the parklets as "quaint, private enclaves."
Juicy Brew employees clean the parklets of debris and sanitize tables with soap and water. The establishment has added trash cans, a hand-sanitizer station and umbrellas to shield customers from harsh sunlight.
"The parklets kept us alive. They kept us from closing," said Hee, who is wholeheartedly in favor of parklets becoming permanent features in Kaimuki and other neighborhoods. "The parklets have been a lifesaver during the pandemic."  
Veteran restaurateur Stan Glander, owner of Kaimuki dining establishment The Surfing Pig, is supportive of the parklets because of the positive impact they have on the community.
"When the neighborhood does well, we do well," he said.
Glander, also president and CEO of Kono's Restaurants, appreciates the parklets as gathering places for people, which is one of the goals of creating parklets. He began working in the restaurant business while in high school and expanded into food and beverage service at hotels, eventually managing an entire hotel system in Philadelphia before returning to Hawaii and food service. Glander said that even without the pandemic, it's incumbent for owners to "stay on top of your business and constantly adapt."
In addition to being good for business, the parklets are positive for the environment. Made from recycled materials and providing job training for youth, the parklets support a growing "culture of reuse."
Quinn Vittum, co-founder of Re-use Hawaii, asked his team member Phil Ziegler to conceptualize renderings for the Kaimuki parklets. The first parklet, fronting Bean About Town, was made with wooden beams salvaged from the former Ward Warehouse and concrete planters relocated from a nearby Goodwill Store and Donation Center undergoing renovations. The planters serve as a safety measure, providing a protective barrier around the parklet to withstand impacts from vehicles on Waialae Avenue.
The first parklet was constructed at Re-use Hawaii's Kakaako warehouse and assembled in Kaimuki in less than a day. It was later upgraded with an extended wall and flooring. A later parklet near Juicy Brew was crafted with African mahogany from a demolished Kaimuki house.
Vittum explained that a third of construction waste is reusable, and parklets and other reuse projects keep these materials out of Hawaii's limited landfills. He also noted that 60% to 70% of parklets are tax-deductible.
Bolstered by the success of its Kaimuki parklets, Better Block Hawaii — with support from AARP Hawaii and Ulupono Initiative — recently debuted its first parklet in Kalihi at Richie's Drive Inn to support businesses, enhance safety, and create vibrant public spaces.