More than $1 million in Hawaii food self-sufficiency grants and support awarded in 2020
Nov 10, 2020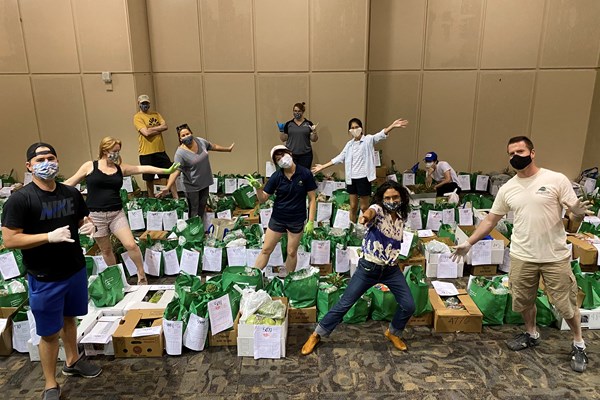 On May 29, 2020, the Ulupono team volunteered at the Hawaii Farm Bureau's Farm-to-Car program based at the Neal Blaisdell Center. The program connected local growers to consumers while supplying families with fresh produce.
A staggering strain has been placed on local farmers throughout the COVID-19 pandemic as Hawaii's food distribution channels have continued to suffer severe disruptions. In response, Ulupono Initiative has provided critical assistance to support farmers statewide as they adapt to an ever-changing business and financial landscape for the agricultural industry.
Early on in the pandemic, a $150,000 grant provided through the Ulupono Fund at the Hawaii Community Foundation (HCF) helped the Hawaii Farm Bureau Foundation distribute needed financial capital to Hawaii farmers and nonprofit organizations purchasing food from local farmers. Ulupono's support for food security did not stop there.
Through the Ulupono Fund, more than $1 million in grants and other support has been distributed this year to strengthen local food production and make our islands more food self-sufficient and resilient. In addition to the Hawaii Farm Bureau Foundation, recipients have included the State of Hawaii Department of Agriculture, Waianae Coast Comprehensive Health Center, Aloha Harvest, The Food Basket, The Kohala Center, and many others.
"Across the state, local farmers, ranchers and nonprofits are working together to feed Hawaii families on a massive scale, with much going to our most vulnerable," said Amy Hennessey, Ulupono Initiative senior vice president of communications and external affairs. "This assistance helps local farmers to continue providing fresh, locally grown produce to families statewide not only during the current crisis but beyond by increasing long-term food security and resilience in Hawaii." 
To address other impacts caused by the COVID-19 pandemic, Ulupono team members have also contributed their knowledge, access to their networks, and ample time to help where they can.