DA BUX helps Hawaii's families and farmers by doubling up local food dollars
Nov 10, 2020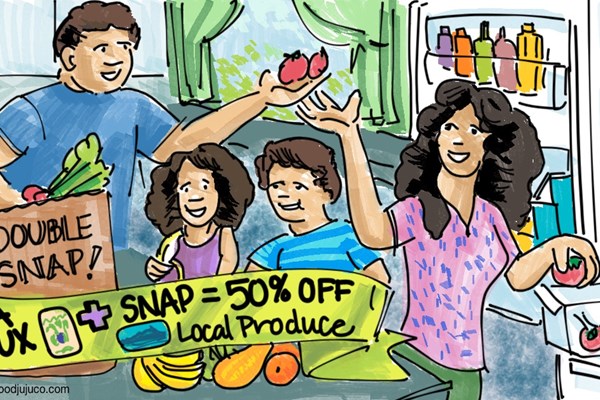 Ulupono Initiative joins several community-minded organizations in securing state funding match for critical program
As many local families struggle to make ends meet, The Food Basket, Hawaii Island's food bank, recently received a one million-dollar boost benefitting its DA BUX Double Up Food Bucks program, which increases the purchasing power of Supplemental Nutritional Assistance Program (SNAP) recipients toward locally grown fruits and vegetables.
SNAP, the U.S. Department of Agriculture's food assistance program for individuals and families, has provided much needed financial support to citizens nationwide experiencing financial strain due to the COVID-19 pandemic. Here in Hawaii, 177,083 residents received SNAP benefits in August 2020, which represented a 14.5% increase in recipient numbers compared to the same month in 2019.
Working in tandem with SNAP, DA BUX Double Up Food Bucks – just as the program's name promises – doubles the purchasing power of SNAP-EBT card participants when they buy healthy locally produced foods from Hawaii farmers as well participating markets and retail outlets. DA BUX also works to improve access to local-produced foods and encourages healthy eating habits. 
Seeing an increasing need to offer support to Hawaii families, several private-sector donors contributed $500,000 toward financing DA BUX. The State of Hawaii provided a matching contribution with funds from the CARES Act, increasing the total to $1 million.
To facilitate the full spend down of the CARES Act portion by the end of the year, the state also increased the program's daily match limit from $20 to $50 per day, and local ground beef and eggs were added to the program – both through Dec. 29, 2020.
"I really love this program because I am diabetic and need fresh veggies and fruits to help keep me healthy," said Dawn Marquez, a Waimanalo resident and DA BUX shopper. "DA BUX also helps me with my kids. They love looking for DA BUX labels on produce and choosing what they want. Carrots, cabbage, cucumbers and local apple bananas are their favorites, to name just a few."
Jan Masukawa, a DA BUX shopper on Kauai, added: "I do my shopping at my local grocery store in Waimea and always buy local fruits and veggies using my DA BUX Access Card and EBT card. DA BUX saves me money and helps me eat healthy."
In addition to consumers paying for groceries, DA BUX also helps farmers, ranchers and many others involved in Hawaii's agricultural industry. The COVID-19 pandemic has also placed staggering financial strain on Hawaii's farmers and ranchers, many of whom sold substantial amounts of produce, meats and other ingredients to hotels and restaurants statewide prior to the crisis. Multiple COVID-19 restrictions and drops in customer sales at these businesses have led to decreased purchases from local farmers and ranchers, with some having to consider scaling back operations or downsizing their workforce. 
With all of these challenges expected to continue for the near future, the consumer benefits of SNAP and DA BUX Double Up Food Bucks could prove a force for economic stimulus. For lower-income families, SNAP benefits allow for more spending on food and other household necessities, freeing up cash to purchase other necessities.
"DA BUX Double Up Food Bucks is a triple-win solution because it supports local farmers with an increased customer base; low-income families who receive double the purchasing power for healthy, Hawaii-grown produce; and our entire community by keeping dollars in the local economy," Gov. David Ige said in announcing the state's funding match.
When consumers purchase qualifying Hawaii-grown-and-raised fruits, vegetables, meats and other ingredients at participating DA BUX locations, their action creates and secures local jobs, fosters a sustainable local economy, and encourages the expansion of production and crop diversity to meet demands. 
"Interest in expanding DA BUX was enthusiastic because of a desire to help and a shared recognition that a strong agriculture economy is critical to addressing Hawaii's long-term food security and resilience issues," said Murray Clay, president of Ulupono Initiative, which provided support through the Ulupono Fund at the Hawaii Community Foundation.
Ulupono Initiative commends the Stupski Foundation, The Harry and Jeanette Weinberg Foundation, Kamehameha Schools, and the State of Hawaii for recognizing that their support of DA BUX will go a long way to uplift families while helping local agricultural food producers build their market base to feed our community.
To learn more about DA BUX Double Up Food Bucks, visit dabux.org.