Everything Starts with Wai premieres
May 30, 2023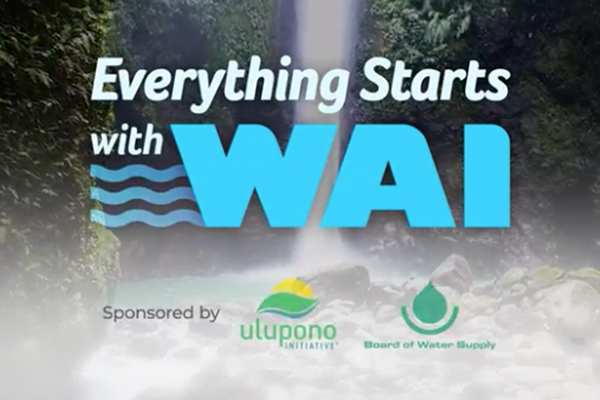 The first segment of "Everything Starts with Wai," a new, year-long series on Hawaii New Now's HI Now, debuted on May 24.
The series kicked off featuring Ulupono Initiative's own Fresh Water Director, Jeremy Kimura, who discusses water as a precious resource through a cultural and sustainable lens. The segment also features Kaleo Manuel, deputy director of the state's Commission on Water Resource Management. Both men talk about their personal connections to water management and have helpful tips on how residents can get involved on a community level or on a personal level through small changes in the home.
Ulupono Initiative is pleased to sponsor Everything Starts with Wai, recognizing that freshwater availability cannot be taken for granted. The Red Hill water contamination crisis of 2022 brought issues to the limelight, which are a continuing source of discussion and frustration. On Oahu, there is a growing sense of vulnerability permeating through the community as more residents want to ensure an adequate freshwater supply for current and future generations. Residents face unique challenges on the neighbor islands, and freshwater supply exploration continues.
In Everything Starts with Wai, the Hawaii News Now team takes a deep dive into statewide issues surrounding the freshwater supply and asks the hard questions so that viewers can be informed and hear multiple perspectives from subject matter experts. Future segments will address a wide variety of freshwater topics of greatest importance throughout the state.
As we continue to see an undeniable connection to the land and the critical role we play in being environmental stewards of the aina, these vital topics will continue to weigh heavy on our minds. Everything Starts with Wai is an educational and enlightening program that strives to deliver a message of hope and a collective call to action.
In case you missed the first installment of the program, you can watch it here.