Kauai alternative fuel corridor boosts EV expansion efforts
May 25, 2021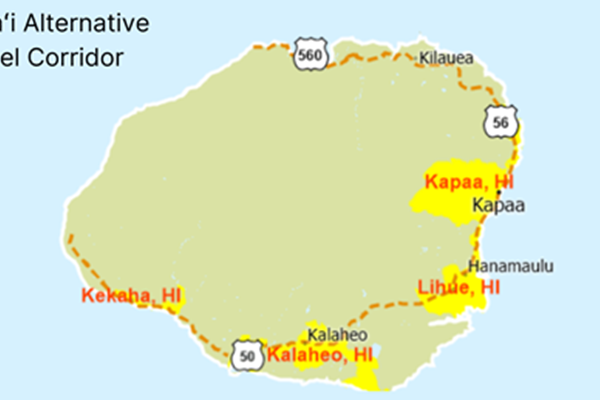 The number of registered passenger electric vehicles (EVs) is increasing year-over-year in the State of Hawaii as more residents choose the cleaner and less fossil fuel-dependent form of transportation. With this increased interest in EVs, there is also an increased need for charging infrastructure.
Recently, the U.S. Department of Transportation (USDOT) Federal Highway Administration approved the Kauai Alternative Fuel Corridor. Nationally, alternative fuel corridors are major highways that have strategically placed plug-in electric vehicle fueling and charging infrastructure to improve the mobility of alternative fuel vehicles. Adding the approved fuel corridor on Kauai means that six of Hawaii's islands now have such corridors, solidifying the state's commitment to transforming the national transportation outlook and setting a precedent on EV integration.
To designate its national alternative fuel corridors, USDOT solicits nominations from state and local officials and works with industry stakeholders. The nomination of the Kauai corridor was coordinated by the Hawaii State Energy Office (HSEO) in cooperation with the State of Hawaii Department of Transportation (HDOT), County of Kauai, Kauai Island Utility Cooperative (KIUC), Ulupono Initiative, and the Sustainable Transportation Coalition of Hawaii.
"Kauai County is excited to be moving ahead with a backbone of fast-charging EV infrastructure on island," said Ben Sullivan, County of Kauai energy and sustainability manager. "We are lucky to have tremendous partners including HSEO, Ulupono, HDOT, and KIUC to help us work through the many pieces of this process. EVs are an important component in our county's vision of a diverse and clean multimodal transportation system for Kauai."
As reported in the HSEO news release, "Alternative Fuel Corridor Status Will Boost Kauai's EV Expansion Efforts," issued in April 2021, the alternative fuel corridor designation for Kauai will:
Help coordinate actions needed to effectively identify and deploy EV infrastructure across the County of Kauai;
Highlight the importance of clean transportation roadways and charging locations;
Facilitate increased coordination between state and local government agencies, Hawaii's businesses, and social communities; and
Incentivize vehicle dealers to increase EV availability and encourage car rental agencies to add vehicles to their fleet.
Kauai Mayor Derek Kawakami welcomed the federal approval.
"Electric vehicles coupled with increased opportunities for walking, biking and transit are at the heart of our county transportation policies," Mayor Kawakami said. "We greatly appreciate the strong partnerships we have to realize these objectives. This federal EV corridor designation is key to moving ahead on needed EV infrastructure for our island."
The approval of the Kauai Alternative Fuel Corridor is an exciting development that will bring a multitude of benefits to the Garden Island, including streamlined access to potential funding for EV charging infrastructure. The highway segments that will make up Kauai's alternative fuel corridor extend 71.3 miles from Haena on the island's north shore along Highways 560, 56 and 50, ending in West Kauai. The corridor moves Kauai and the entire state forward toward a more self-sufficient, economically healthier and resilient Hawaii.
Ulupono Initiative strongly believes that EV integration is necessary to ensure Hawaii remains committed to a cleaner, renewable-energy future.
Read more about Ulupono Initiative's position on clean transportation here.