Ulupono report reveals annual costs of Hawaii's vehicle economy
Mar 24, 2021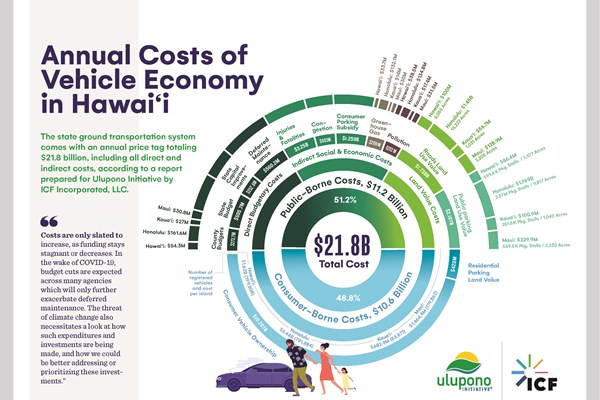 Hawaii's vehicle transportation system has an annual price tag totaling $21.8 billion, including all direct and indirect costs, according to a newly published report, "The Costs of the Vehicle Economy in Hawaii," prepared for Ulupono Initiative by ICF Incorporated LLC.
Hawaii's vehicle transportation system includes approximately 9,800 miles of public roadways and more than 1.27 million registered vehicles statewide, as well as state and county transportation infrastructure (e.g., bridges, freeway on- and off-ramps, signs, speedbumps, parking and more). It also includes associated costs such as pollution and congestion resulting from public usage of the islands' ground transportation system.
Key findings in the report related to the costs of Hawaii's vehicle economy include:
Public costs amount to roughly $15,000 per taxpayer ($24,400 per household), annually, even if they don't own a car.
Personal vehicles cost an additional $16,200 per household per year. With the public costs above, each household's costs total $40,600 per year (or 51 percent of pre-tax income).
User fees amount to approximately $378 million, annually, almost half of the actual public roadway expenditures from the state and counties — and this gap will expand as 10-15 percent of the state's highway system is projected to be directly impacted by sea level rise.
The maintenance backlog is the same as the annual expenditures for both the state and the four counties combined. Our system and planning need to be re-evaluated and right-sized.
Land value of public lands dedicated to road, highways, and parking is $3.9 billion, covering about 14 percent of the available urban land in our state.
Many of the public costs are indirect but affect our communities greatly; for example, injuries and fatalities, congestion, greenhouse gas emissions and other pollution, and consumer parking subsidies.
The report's conclusion notes, "One of the main concerns with the size of the costs of the vehicle economy is that costs are only slated to increase as funding stays stagnant or decreases. In the wake of COVID-19, budget cuts are expected across many agencies, which will only further exacerbate deferred maintenance. The threat of climate change also necessitates a look at how such expenditures and investments are being made, and how we could be better addressing or prioritizing these investments."
Kathleen Rooney, Ulupono Initiative's director of transportation policy and programs, adds, "It is critical that we understand these transportation costs and impacts, and that we evaluate whether these are the best financial investments we can, and should, make."
Click here to read the full report >>