UH Manoa receives a $50k boost for energy efficient projects
Mar 29, 2023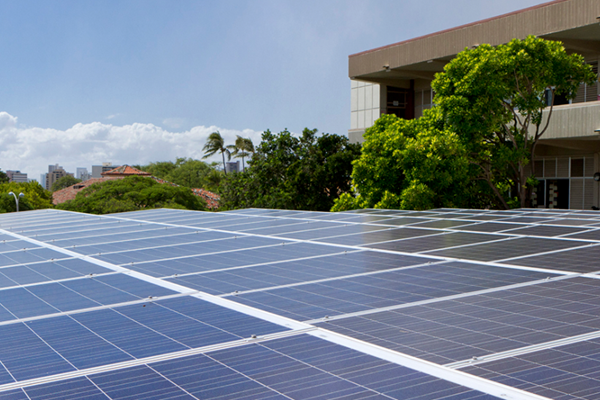 The University of Hawaii at Moana recently received $50,000 in funds through the Ulupono Fund at the Hawaii Community Foundation. The money goes into UH's Green Revolving Fund, which reinvests cost savings from energy efficiency projects across the UH Manoa campus. UH joins other universities across the country in using a revolving fund to provide upfront financing for upgrades that are energy efficient. The savings that come from the lower operating costs, as well as other rebates, are then put back into the fund.
The Green Revolving Fund is important to UH's commitment to moving toward its "net zero" goal to reduce greenhouse gas emissions by 2035. With just 13 years to meet the goal and achieving just  9% of it to date, this new funding boost will significantly help the university move toward its goal.
One of the current projects underway at the university's flagship campus is an exterior lighting retrofit. The LED lighting used in this project is highly efficient and will use 64% less energy. The fixtures will also require less maintenance and have a longer life-span than the current high-intensity discharge fixtures. A solar PV shade was also recently installed on the top of the parking structure.
"We are pleased to support UH Manoa and its energy-efficient projects, which have the potential to save the university millions of dollars each year in energy costs by embracing energy efficiency," said Murray Clay, Ulupono's president. "This is one of many examples where we work with our partners by supporting sustainable solutions to positively help transform our community and the lives of our neighbors."
UH will soon be entering the third phase of its Strategic Energy Management Master Plan and will install additional solar photovoltaic panels on campus buildings. Other projects that will take place in the near future include air conditioning system efficiency improvements, LED lighting replacements, battery storage, water efficiency measures and waste management.