Honolulu Civil Beat keeps the focus on 'Hawaii Grown' solutions
Mar 10, 2021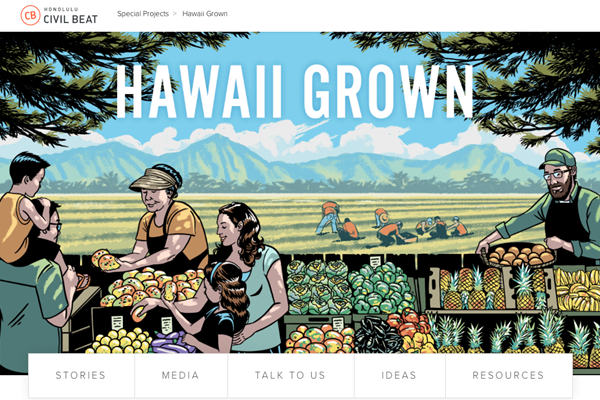 Hawaii imports 80-90% of what we eat. It's a fact of our lives here in the Islands that contributes to the high cost of living, environmental impacts, and significant food security risks. 
As the world's most isolated, populated landmass, Hawaii has a precarious reliance on just-in-time delivery. Over the past year, the COVID-19 pandemic has exposed the kind of critical issues that arise when we become unable to feed our resident population in a time of great need. Since the COVID-19 virus first began wreaking havoc on our economy, one of the most often asked questions is how Hawaii can grow and raise its own food to become more self-sufficient?
Honolulu Civil Beat recently launched "Hawaii Grown," a new series of monthly articles and podcasts highlighting local agriculture and food security issues to address this question. The yearlong series, partially funded by a grant from the Ulupono Fund at the Hawaii Community Foundation, will explore challenges and solutions to reduce dependence on imported food. In each month's collection of Hawaii Grown articles and podcasts, Honolulu Civil Beat will look at a single issue, talk to local farmers and ranchers about how it impacts their lives, and explore possible solutions. 
Land use plays a critical role in Hawaii's agricultural efforts, so the Hawaii Grown webpage includes maps of each island that provide an overview of how much land Hawaii has in total and, more importantly, how those lands are categorized and used.
In addition to serving as a news source for relevant and timely information about food sustainability, Hawaii Grown aims to be an interactive center for the public to contribute its concerns, ideas and solutions for food sustainability in Hawaii. The section also provides resources for anyone interested in becoming part of the food sustainability solution by planting a home garden—including access to the University of Hawaii's plant hotline, which connects directly to a master gardener able to answer questions and provide advice.
At Ulupono Initiative, we believe that increasing local food production for local communities is a critical component of a more sustainable, resilient Hawaii. For more information, visit the Hawaii Grown page at https://www.civilbeat.org/hawaiigrown/.