Kapala Toolbox provide guidance for quick build projects
Jun 29, 2023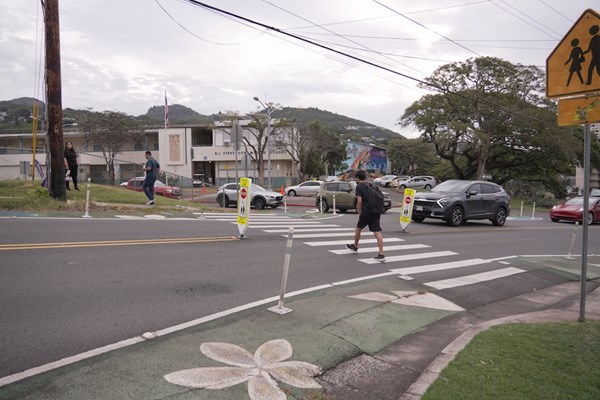 Ulupono Initiative recently published a summary of the Stevenson Middle School quick build to document the great work of the community and school driven project. If you've been around the Stevenson Middle School campus, you may have noticed a colorful mural painted on the road in front of the school's entrance. The eye-catching curb extension, which is also known as a bulb-out, is a quick build project that helps protects our keiki walking to school.  
Completed in 2021 through the collaborative efforts of students and community members, the curb extension makes people walking more visible and reduces the amount of time and distance that they are vulnerable to people driving, using a combination of paint and delineators. The mural design also features flowers and blue and green colors and represents the harmonious connection between the mountains and the ocean, as well the inherent beauty of Makiki.
The Stevenson Middle School project is just one of a growing number of quick build installations island wide, adding to the aesthetic of the community while creating safer streets for getting around, whether by car, foot, bike, or transit. In addition to bulb-outs, traffic signal boxes and bus stops are two other allowed quick build projects that can be developed by members of the community using inexpensive materials. Ulupono Initiative has helped several of these projects with technical assistance, funding, and other project support — and looks forward to supporting more as other communities see how accessible and implementable these projects are.
"There are more than 25 quick build projects on Oahu from Ewa to Kailua, helping make our streets safer from keiki to kupuna," said Kathleen Rooney, Ulupono Initiative's director of transportation policy and programs. "The Kapala Toolbox can help other community-based organizations employ these techniques, within the context of county rules, in helping their neighborhoods and neighbors thrive."
The City & County of Honolulu's Complete Streets program has created a step-by-step guide called the Kapala Toolbox to encourage more residents, artists and organizations to organize and create quick build projects throughout the islands. It provides guidance on the types of projects that are allowed, how to apply to have a plan approved and how to complete installation. It also contains information about supplies and costs, and contains a checklist to keep groups organized. This complements a 2020 related Parklet Program guide that also employs the quick build approach to transforming an on-street parking space into a more diverse and dynamic public space.
You can download the Kapala Toolbox here and read the Hawaii News Now story. The parklet program guide is also here.
Read more about the Stevenson Middle School quick build and other similar projects >>