Ulupono bids adieu to Amy Hennessey … but it's not goodbye for long
Jun 28, 2022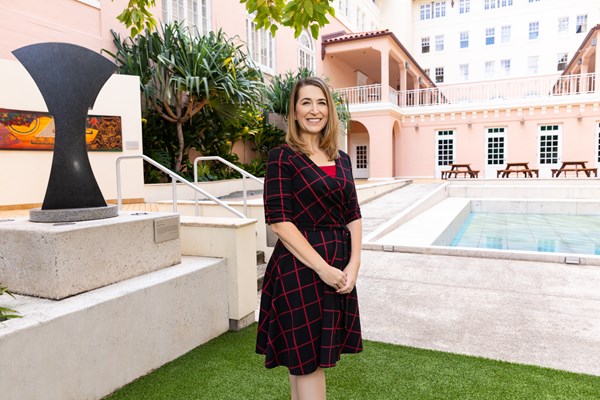 In bittersweet news, Ulupono Initiative recently extended a warm farewell to Amy Hennessey, a vital, leading member of the Ulupono team throughout the last decade. After some well-earned time off, Amy will be taking on a new position as the Hawaii lead of marketing and communications for The Omidyar Group.
Stepping into Amy's former role of senior vice president of communications and external affairs will be Keith DeMello, who has been with Ulupono Initiative, a mission-driven venture of The Omidyar Group, for nearly three years and served most recently as vice president of communications and community.
"Amy's work has been indispensable to Ulupono's efforts, providing strategic counsel to our internal team and external partners," said Murray Clay, president of Ulupono. "A member of Ulupono's management team, Amy's enthusiasm, and passion became synonymous with Ulupono's brand and driven efforts to increase Hawaii's self-sufficiency and resilience. She will be missed, but we are thankful we may have opportunities to partner with her in her new role."
"It has been extremely gratifying to know the work we have done at Ulupono has had a positive impact on the lives of our friends and neighbors," Amy said. "While it can be challenging, I've been able to work with wonderful people throughout the state who share our vision for a more self-sufficient place to live. I know the team will be in good hands with Keith."
Between 2012 and 2022, Amy's responsibilities included oversight of all areas of strategic marketing and communications, government affairs, and community partnerships. A 2007 member of Pacific Business News' Forty Under 40 class and a 2008 Pacific Century Fellow, she also holds the distinction of being the honored as the 2012 PR Person of the Year by the Public Relations Society of America Hawaii Chapter (PRSA Hawaii), as well as a Woman to Watch in the 2015 Pacific Business News "Women Who Mean Business" Awards. In addition, Amy remains active in supporting her belief in access to education and healthy communities through her service on the boards of the University of Hawaii Alumni Association and Regents Candidate Advisory Council, as well as PRSA Hawaii as education director and student chapter liaison.
Born and raised on Oahu, Keith was recently appointed to the State of Hawaii Workforce Development Council and brings more than two decades of experience in public relations and communications across a wide range of sectors, including corporate, government, nonprofit, and information technology. His career includes more than 13 years at Anthology Marketing Group, Hawaii's largest integrated marketing firm, most recently as vice president of public and government affairs. He also served as deputy communications director for Gov. Neil Abercrombie, collaborating with public information officers across various departments. A recipient of PRSA Hawaii's 2020 President's Award, Keith is a past president of the local chapters of PRSA and the American Marketing Association and is a member of the boards of the American Advertising Federation, Honolulu Zoological Society, and Portuguese Chamber of Commerce.