EAT THINK DRINK #18 dives into Hawaii's seafood potential
Jun 28, 2022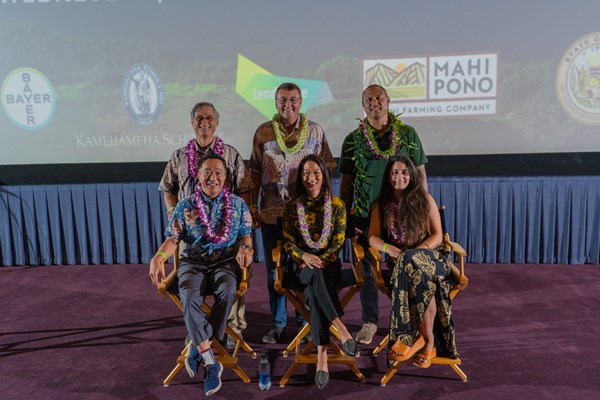 Enjoying a seafood-based dish is very prevalent across the state of Hawaii, but it will surprise many that 63% of the seafood consumed in the islands is imported. So, what's the current state of aquaculture in Hawaii, and how are individuals and organizations innovating to support a sustainable industry?
Presented by the Hawaii Agriculture Foundation with sponsorship support from Ulupono Initiative and others, the 18th EAT THINK DRINK: What's the Catch? — Cultivating Hawaii's Seafood Future dived deeper into the industry.
Held June 15 at Ward Consolidated Theatres, EAT THINK DRINK #18 began with a private screening of Hashi Media's latest episode of "Taste Our Love for Hawaii," titled Aqua+Culture. This episode featured two chefs based out of Los Angeles who visited Hawaii to explore the aquaculture industry with local chef Mark Pomaski. While watching the episode's premiere, attendees enjoyed a seafood-based meal that used only local products!
Dick Jones, CEO of Blue Ocean Mariculture, then opened the discussion by elaborating on aquaculture on a local and global level. There's an enormous amount of potential for Hawaii to create a successful aquaculture industry on a larger scale. Jones stated that Hawaii has "diverse microclimates on land, which provide 600,000 acres of soothful land with water access, and 143,000 acres of near-shore coastline access; we have access to great infrastructure and demand from both locals and from tourists, all the elements needed to grow a very successful industry." Hawaii is also projected to reach just under $100 million of revenue in 2022 and continues to be on an upwards trend.
Jones' testimony shows that Hawaii has the natural resources to create a more resilient aquaculture community, so what are the next steps? The Hawaii Department of Agriculture (HDOA) recently increased capacity within the Aquaculture Division from three to four employees. While this is an improvement, that's only four people out of 301. HDOA has a budget of approximately $136 million, yet only 2% of that is devoted to aquaculture.
Some may feel aquaculture hasn't been given the attention it deserves, but state Sen. Glenn Wakai, who moderated a panel discussion that followed, is optimistic about the changes being made in its favor. One change entails SB2284 which was recently passed recognizing the importance of aquaculture in Hawaii and establishing a framework for it to thrive.
On top of changes being made in the government sector, local industry leaders are doing their best to support aquaculture. Panelists Alexia Akbay, founder and CEO of Symbrosia; John Dobovan, CEO of Kulahaven Farms LLC; and Ikaika Rogerson, president of Waimanalo Limu Hui, are prime examples of leaders who're taking initiative within the aquaculture community.
Akbay discussed how Symbrosia seeks to reduce livestock methane emissions by using seaweed to feed livestock, Dobovan shared how they contributed to more than 200,000 meals in Hawaii during 2021, and Rogerson elaborated on Waimanalo Limu Hui's programs that seek to educate the community about food sovereignty. These are just a sampling of what they and other leaders are doing to create a more self-sustaining aquaculture community.
Watch the recap of EAT THINK DRINK #18 and learn more about the Hawai'i Agricultural Foundation's EAT THINK DRINK series at www.hawaiiagfoundation.org.