Ulupono Initiative sponsors CHANGE series panel on Hawaii's natural environment
Jun 24, 2021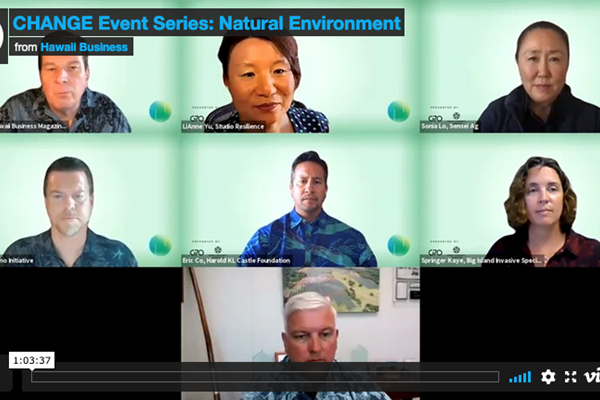 On June 10, Hawaii Business magazine continued its CHANGE Event series with a panel focusing on Hawaii's natural environment.
Sponsored by Ulupono Initiative, the forum asked panelists to discuss ways in which Hawaii could make larger-scale tourism sustainable, meet or surpass our clean-energy goals, create a more sustainable food economy, and properly manage public lands for the greater good.
The magazine's CHANGE Event series of panel discussions is based on the Hawaii Community Foundation's CHANGE framework, which identifies six essential sectors, or areas, affecting the overall well-being of our islands and residents. These six sectors are:
Community and Economy
Health and Wellness
Arts and Culture
Natural Environment
Government and Civics
Education
The goal of the series is to elevate the CHANGE framework through discussion and conversation, and to  inspire and educate attendees.
Panelists at the June forum highlighted many aspects of the CHANGE pillars in their discussion of Hawaii's natural environment, touching on related subjects such as agriculture, food, water, energy, invasive species and tourism, and shared success stories, challenges and progress thus far. The panel also discussed the advancement of Performance-Based Regulation — which has been called a sea change in how the electric utility is regulated in direct service to state energy goals — and the importance of increasing local food production as a component of Hawaii's sustainability and resilience.  
Moderated by Hawaii Business magazine editor Steve Petranik, the CHANGE Event panel included David Bissell, president and CEO of the Kauai Island Utility Cooperative; Murray Clay, president of Ulupono Initiative; Eric Co, senior program officer for ocean resiliency at The Harold K.L. Castle Foundation; Springer Kaye, manager of the Big Island Invasive Species Committee; Sonia Lo, CEO of Sensei Ag; and LiAnne Yu, contributing writer for Hawaii Business.
Watch the full panel discussion at Hawaii Business magazine here.