Lessons of the pandemic, continued: Jason Brand, Kunia Country Farms and Manulele Distillers
Jun 24, 2021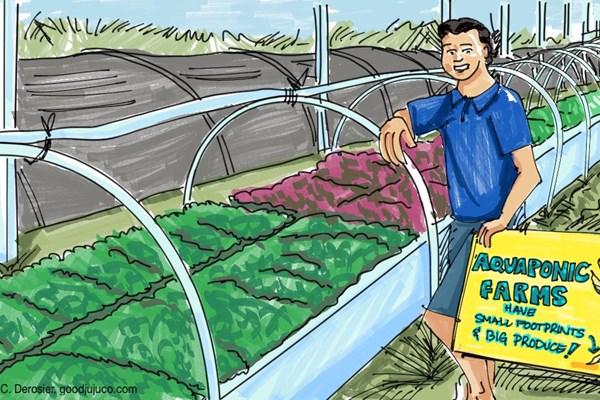 In the early weeks of the COVID-19 pandemic, Ulupono Initiative launched a then-weekly story series spotlighting Hawaii farmers, ranchers and other food producers as they adapted to the sudden disruption to Hawaii's food distribution network. The series' goal was bringing attention to their critical efforts to sustain not only their businesses, but our communities as well during a very difficult time.
When we initially spoke with Jason Brand in late May 2020, he and his business partners had made swift business decisions to pivot operations of the two Oahu companies they co-founded and managed: Kunia Country Farms, one of Hawaii's largest aquaponic farms, and Manulele Distillers, which crafts Ko Hana Hawaiian Agricole Rum. At the time Brand vowed to remain committed to producing local food at affordable prices during the pandemic, positioning his team to take on all economic challenges coming its way. 
On our recent return to see how Brand and his businesses were doing, he shared the good news that Kunia Country Farms maintained full employment throughout the pandemic. When sales dropped overall, the business did everything it could to keep going, including pivoting from restaurant sales to grocer sales, and participating in large farm baskets for local produce-seeking consumers.
"Foodland was wonderful in pivoting to local farms," Brand said, also making sure to credit the work of the Hawaii Farm Bureau in supporting farm-to-car sales and farmers market programs.
Kunia Country Farms' CSA (community-supported agriculture) orders climbed from 100 to 1,000 pounds of produce a week during the pandemic. The business also donated several tons of fresh produce to the Hawaii Foodbank, joining many local agricultural producers stepping forward to feed Hawaii families during some of the most challenging months of 2020.
Manulele Distillers adapted by embracing the business of crafting alcohol-based hand sanitizer, securing an order from the Hawaii Emergency Management Agency. A large order a month into the COVID-19 pandemic allowed Manulele to expand its production facility, becoming Hawaii's first distillery registered by the U.S. Food and Drug Administration to make sanitizing products. With increased automation, the business produced 10,000-gallon batches of hand sanitizer at a time that were also more affordably priced than mainland counterparts. As a direct result of the state contract, Brand was able to keep pricing low for all businesses that purchased sanitizers from him.
Recently appointed to the State of Hawaii Workforce Development Council, Brand brings a unique perspective to the agency's membership. As the state recovers from the pandemic and looks to diversify its economy, it is important to have innovative business minds like his supporting workforce development, and in particular, workforce development connected to Hawaii's food system.
Brand agrees with many that state government needs to step up efforts to increase its purchases of local products. With hopes of the Hawaii State Department of Education (DOE) committing 100% of its purchases to local products likely too lofty a goal, he believes it's more realistic to set achievable purchase goals — such as 35% — for some products, mitigating risk by diversifying across a variety of products. With these types of large institutional contracts, banks are more likely to consider lending to farmers, enabling them to plant and raise crops even without grant support.
Today, Kunia Country Farms has thankfully returned to pre-pandemic overall sales numbers and Brand is looking ahead to focus on food, planning a large-scale expansion to serve his guiding principle of offering locally produced food at scale to ensure competitive pricing.
Asked if his perspective has shifted since our chat with him in 2020, Brand said no. His goals remain set on maintaining high-quality product at mainland-level pricing. The pandemic opened the door slightly to more consumers wanting to buy local with equal pricing.
"Our job is to scale appropriately so we bring local products at the right prices to the market," said Brand, admitting that doing so is a work in progress.
If Brand could send a message back through time to the start of the pandemic, he'd tell himself to expand into the pandemic and scale faster, allowing his operation to meet the demand at lower pricing. He believes what's most needed now to succeed is continued development of capacity to meet growing demand among big buyers, such as the DOE, reopening hotels and the military.
Overall though, Brand is very proud of Hawaii's farming community having witnessed farmers coming together to help each other during the pandemic. Programs developed by organizations like the Hawaii Farm Bureau helped tremendously and gave focus to community benefits. Brand hopes Hawaii residents will continue to embrace that support in ways that enable farmers and food producers to scale-up and be cost competitive.