Hawaii Bike Challenge succeeds in getting feet on pedals for miles of clean, healthy cycling
Jun 24, 2021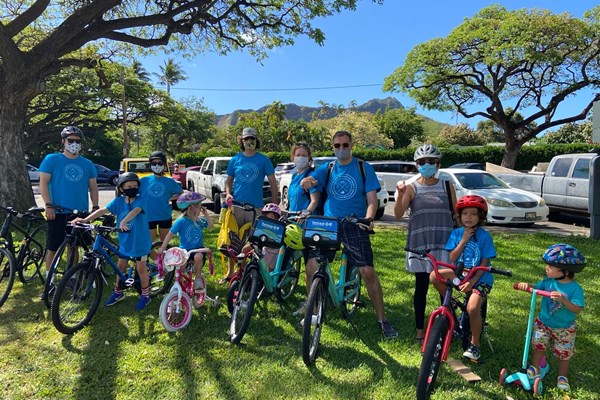 Last month's Hawaii Bike Challenge crossed the finish line a resounding success. According to Sustainable Transportation Coalition of Hawaii (STCH), 46 workplaces and 552 participants across the state joined in some serious (but fun) biking, notching a total 64,812 miles travelled — avoiding the equivalent of a whopping 5,351 pounds of carbon dioxide from car trips! The monthlong event, committed to getting as many Hawaii residents as possible on bicycles and pedaling, pedaling, pedaling away in May, recorded 148 new riders giving the annual challenge a test ride.
The event was presented by Blue Planet Foundation in partnership with Ulupono Initiative, G70 and Hawaiian Telcom. The purpose was to highlight biking as the clean, more active mode of transportation that it is, as well as an activity reducing our state's dependence on imported fossil fuels. Winning teams, groups and clubs, top riders and awesome folks encouraging many others to ride not only pulled themselves outdoors and into the great wide biking open, but motivated many of their coworkers, family members and friends to discover (or rediscover) the many benefits of cycling, too.
Visit the Hawaii Bike Challenge website to find all of the 2021 event's winners, check out photos and stories from its many teams, and learn who's still out there biking beyond the challenge.
For more information about the Hawaii Bike Challenge, visit https://www.lovetoride.net/hawaii.