Electrifying Hawaii transportation gains support and momentum
Jun 24, 2021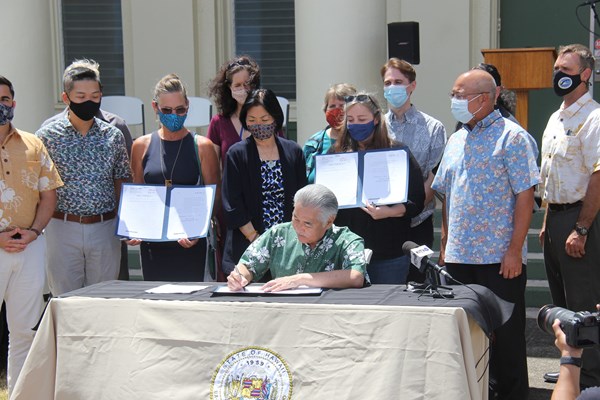 What's the status of the energy transition in the Islands as it applies to transportation, when Hawaii imports about a third more gallons of fossil fuels for ground transportation than for electricity production?
Attendees of this week's eighth-annual Hawaii Energy Conference were offered an informative update on Hawaii's progress toward electrification of transportation (EoT) in a special video presentation by Ulupono Initiative. The conference concluded on the same day Gov. David Ige signed into law three bills, passed be the Hawaii State Legislature, that further support Hawaii's transition to clean ground transportation.
Check out the conference video to hear what local leaders have to say about Hawaii's EoT journey thus far and their thoughts on its future. They include DOT Deputy Director of Highways Ed Sniffen, Hawaiian Electric Director of Electrification of Transportation Aki Marceau, Ulupono Initiative Senior Vice President of Investments and Analytics Greg Gaug, and respective Hawaii State Legislature House and Senate energy committee chairs Rep. Nicole Lowen and Sen. Glenn Wakai.
For more information on the eight-annual Hawaii Energy Conference, visit https://hawaiienergyconference.com.