Video shares the story behind a new community 'quick build' on Hawaii Island
Jul 28, 2022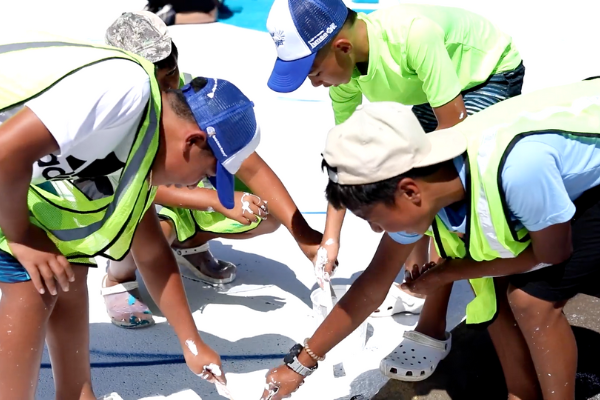 In addition to its impact on the environment, one of the drawbacks to a car-dominated transportation system is that, all too often, the safety of pedestrians and individuals using other modes of transportation is an after-thought. On Hawaii Island, the Keaukaha community worked together to create a safer, biking-friendly commute for local keiki near Keaukaha Elementary School.
With an alarming increase in pedestrian fatalities in incidents involving motorists during the COVID-19 pandemic and a community needs assessment, representatives from the Hawaii Public Health Institute (HIPHI), People for Active Transportation Hawaii (PATH), Hawaii County, and Keaukaha Elementary School proposed three possible scenarios for creating safer walking and biking facilities close to the local elementary school. Following onsite community outreach sessions over two weekends to share maps of the three quick-build options, answer questions, and collect survey responses from community members, 80 people completed follow-up surveys with 60 respondents chose the design that includes the most protected walkway/bikeway.
In addition, to ensure that the project reflected the unique spirit of the community, Keaukaha Elementary School held an art contest on flora and fauna and decided on plants indigenous to their community—the Hala, Lauae, and Kukui. Mural artist and lifelong resident of Keaukaha, Kawehi Malu-Roberts, incorporated art pieces from the contest into the bulb-outs they painted on the road in Keaukaha.
Quick builds, like the one in Keaukaha, showcase how successful low-cost initiatives can benefit the community and provide micro-mobility facilities on Hawaii Island.
This Keaukaha Quick Build Project video, produced with support provided through the Ulupono Fund at the Hawaii Community Foundation, is now available for those who want to learn more about the project and the Keaukaha community.