2021 legislative session was productive in advancing Hawaii's sustainability and resilience goals
Jul 26, 2021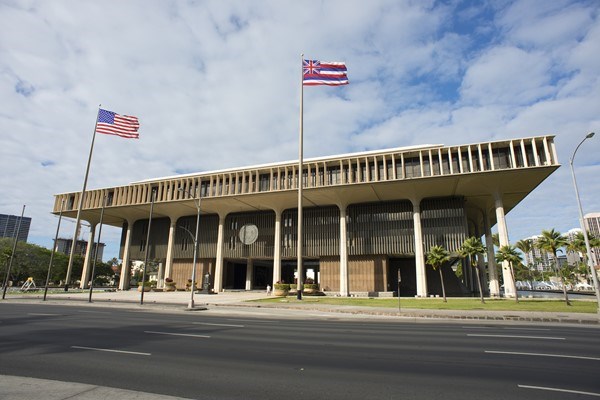 Lawmakers faced numerous budgetary obstacles during this spring's session of the Hawaii State Legislature as the state wrestled with the possibility of furloughs, layoffs and a decline in tourism and tourism revenue that we have not seen in nearly two decades. Still, despite recent economic strain brought on by the ongoing COVID-19 pandemic, state leaders in the House and Senate passed a number of meaningful bills focused on agriculture, transportation and renewable energy, all of which will help Hawaii stay the course in its long-term sustainability goals.
From making strides in support of local food production to building multimodal communities, the following bills were among the many measures reaffirming the state's commitment to meeting its renewable energy, transportation and food-production goals. Each of these bills have been signed into law by Gov. David Ige.
House Bill 552 HD1 SD2 CD1 (Act 74, SLH 2021) establishes clean ground transportation goals for state agencies to achieve a 100% light-duty motor vehicles zero-emission fleet by Dec. 31, 2035. Many state agencies are already making this transition. Converting from petroleum-based vehicles to electric vehicles (EVs) immediately reduces greenhouse gas emissions, helping combat climate change and its impacts on our islands. Though EVs currently only represent about 1% of all passenger vehicles in the state, EV sales grew by more than 40% in 2020. Simply put, zero-emission vehicles are the future of transportation, and clear goals set by state government now will align with similar commitments made around the globe.
House Bill 1142 HD2 SD2 CD1 (Act 75, SLH 2021) works to fund the installation of electric-vehicle charging systems (EVCS) by allocating three cents of the Barrel Tax fund to the state's EVCS rebate program. HB 1142 will also grant each island county permission to adopt ordinances ensuring EVCS are in working order, and establish parking penalties for cars not actively charging while parked in spaces equipped with EVCS.
Senate Bill 1402 SD2 HD1 CD1 (Act 131, SLH 2021) modernizes Hawaii's ground transportation infrastructure by expanding the complete-streets programs and creating more multimodal communities. Modernizing will help reduce harmful emissions from internal combustion engines and lessen Hawaii's dependency on costly imported fuel. 
Senate Bill (SB) 512, SD2 HD1 CD1 (Act 177, SLH 2021) enhances the Hawaii Healthy Food Incentive Program — also known as the DA BUX Double Up Food Bucks program — which doubles the purchasing power of Supplemental Nutrition Assistance Program (SNAP) recipients, providing them opportunities to purchase a broader range of nutritional foods — such as locally grown fruits and vegetables — at participating grocery stores, mobile markets and other retail outlets. The bill removes a $10 per-visit, per-day, cap on the dollar-for-dollar match program. DA BUX doesn't just deliver a one-two punch to hunger. It is also instrumental in stimulating our local economy. By doubling the purchasing power of DA BUX recipients, more money is able to go toward supporting Hawaii's farmers and ranchers, thus keeping the much-needed revenue in our local economy and creating a cycle strengthening Hawaii's food security. 
House Bill (HB) 767 HD2 SD2 (Act 175, SLH 2021) moves the state's Farm-to-School program under the scope of the Hawaii State Department of Education (DOE). Additionally, it requires that, at minimum, 30% of the food served in public schools be sourced locally by 2030. By creating a goal-oriented approach to local food adoption in school meals, state government is making a declaration that it prioritizes fresh and nutritious local food for students, supports local farmers and ranchers, and wants to achieve Hawaii's local-food production goals.
House Bill 817 HD2 SD2 (Act 176, SLH 2021) requires each state department to ensure a percentage of the produce they purchase is locally grown and provide a report on progress to the State Legislature. By establishing the 50% by 2050 goal, with relative benchmarks along the way, state government is supporting local farmers and ranchers with a consistent market, providing fresh and healthy products to the community, and keeping state government money here in the Islands.
Ulupono Initiative applauds the Hawaii State Legislature and the Ige administration for their leadership in building a more sustainable and resilient Hawaii.