Hawaii commitments to a sustainable future
Jan 30, 2023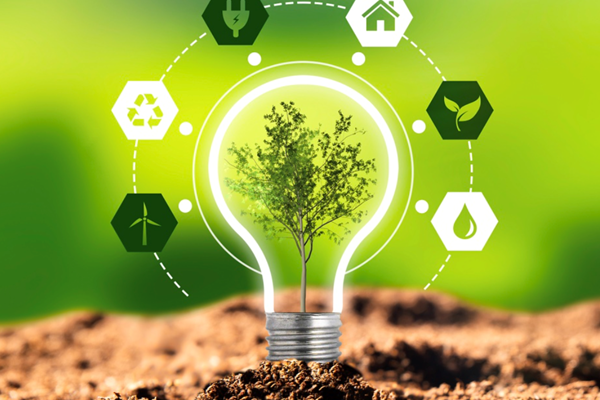 With many bold goals and commitments already on the books, the Aloha State has made much progress toward a sustainable and resilient future across numerous sectors for residents, visitors, and future generations. As we move into 2023, there is still plenty of work to be done, but there are also accomplishments from previous years to be proud of that have created the foundation and built momentum for a brighter and greener Hawaii.
Food
The Hawaii Legislature has recognized our state government's critical role in "buying local," and that consistent demand will help local farmers scale up production and improve food security while benefiting the local economy. Sourcing local food is beginning to gain momentum as well, and the Hawaii Department of Education (HIDOE) is at the forefront. By 2030, the HIDOE—the state's largest department—is statutorily required to meet the local farm-to-school meal goal that 30% of food served in public schools shall consist of locally sourced products (HRS §302A-405.6). Other state agencies, such as the Department of Health, Department of Public Safety, Department of Defense, and the University of Hawaii system, are also held to locally sourced food goals, including 18% by 2030 and 42% by 2045 (HRS §27-8).
Energy
In the renewable energy arena, the State of Hawaii is committed to its bold goal of 100% clean energy by the year 2045. With the state at one time almost entirely reliant on fossil fuels, the 100% goal was established in 2014 and consists of reshaping financial, regulatory, legal and institutional systems that govern the way energy is delivered. This energy goal has led to Hawaii pioneering a new energy regulatory framework which provides the right incentives to accelerate renewable energy adoption and utility efficiency, such as Performance-Based Regulation. In addition, in 2022, the Hawaii Legislature corrected the definition of "renewable portfolio standard" (RPS) to mean the renewable percentage of electrical energy generation, rather than sales. As Hawaii aims to reach an RPS of 100% by 2045, this changes the way Hawaii calculates its progress, focusing on actual generation instead of sales, so that 100% means 100%.
Transportation
Back in 2017, Hawaii's four county mayors issued a joint commitment and signed proclamations to have all fleet vehicles 100% powered by renewable fuel sources by 2045. When the mayors made this pledge, they joined leaders across the globe who have also committed to moving away from fossil fuels for their transportation systems. In addition, the State Department of Transportation (HDOT) has set a goal of having its fleet of light-duty vehicles converted to electric by 2030. HDOT's self-imposed goal comes five years ahead of what is statutorily required of state agencies to have zero-emission fleets for light-duty vehicles by the end of 2035.
Still, electrification is only part of the solution. Commitment to more clean transportation options can also be seen across Hawaii. Signed into law in 2021, Act 131 requires the state to establish a contiguous network of protected active transportation (bicycle and pedestrian) pathways connecting communities throughout each island in which inter-modal conflicts are minimized and one in which the roadway network will prioritize public mass transportation (HRS §264-142). This builds upon existing requirements of the state to develop strategies and mechanisms to reduce greenhouse gas emissions through the reduction of energy use, adoption of renewable energy, and control of air pollution among all agencies, departments, industries, and sectors—including transportation.
Water
The importance of freshwater management is heightened in the context of the Red Hill contamination as well as competing interests for water in an era of decreasing rainfall due to climate change. County water utilities are doing the heavy lifting here by investing in water conservation programming such as rebates for low flow fixtures, rain barrels and other programs to reduce water use in response to the water stressors. Act 202 SLH 2019 requires the Hawaii Department of Health to establish onsite non-potable reuse rules, and the Fresh Water Initiative has been actively connecting all critical stakeholders needed to craft a successful program for the state. Looking ahead, it's going to be increasingly important to work across sectors to integrate sustainable water practices in all areas ranging from housing to energy to agriculture. The Fresh Water Initiative is striving toward three goals: increasing the conservation of fresh water by at least 50 million gallons of water (MGD), recycling at least 30 MGD, and recharging at least 30 MGD back into our aquifers.
A Fresh Start
During his State of the State address on Jan. 23, Gov. Josh Green spoke about his mandate for bold action, which includes leading the world in renewable energy. Gov. Green highlighted the current accomplishments thus far in his short time in office, including a proposed $100 million Climate Impact Fund to fight climate change that will be managed by the Climate Change Mitigation and Adaption Commission. Gov. Green acknowledged that, as an island state, Hawaii faces climate change impacts on the economy, environment and culture.
At Ulupono Initiative, we strive to improve the quality of life for the people of Hawaii by working toward sustainable solutions that support and promote locally produced food, renewable energy, clean transportation choices, and better management of freshwater resources. Our team invests in and partners with innovative organizations to fuel change, and we aim to play a catalytic role to catapult us toward our goal of greater sustainability and self-sufficiency for Hawaii.
For updates on the efforts of our team and partners, sign up to receive our monthly newsletter and get the latest Ulupono news right in your inbox.