Start the new year off buying local and fresh
Jan 15, 2021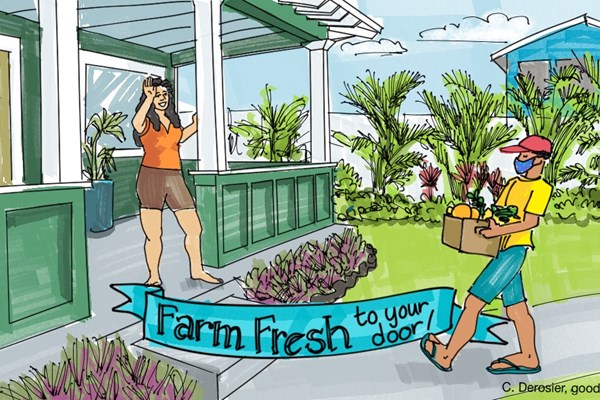 CSAs offer convenient and healthy choices while supporting Hawaii ag producers
By Dani Douglass
One thing most can agree on about 2020 is that habits changed throughout the year. Oahu residents shifted the way they shop for groceries. Many have committed to buying more local products in support of island agriculture while enjoying the nourishment that fresh products offer.
Community-supported agriculture (CSA) is the perfect solution for those wanting to start or continue buying local and supporting community farmers and agriculture in 2021. It couldn't be easier, with choices including weekly or biweekly bags delivered right to your doorstep or convenient pickup point across the island. It's also a great way to incorporate different types of fruits, vegetables and specialty ingredients into your cooking. You may even try something for the first time!
According to Simple Seasonal, there is a multitude of reasons to sign up for one that benefits farmers and the environment, including:
Eliminating the middle-man in the process, which puts more money into the grower's pocket.
The opportunity to get to know and support farmers in the community.
A stronger market for a variety of produce.
Less CO2 emissions from long-distance transportation (especially true for Hawaii).
The choice to support the local economy instead of large corporations.
Farm Link Hawaii and Oahu Fresh are two choices for CSAs available to Oahu residents.
Farm Link Hawaii was started in 2015 and has since supported more than 200 local farmers and serves approximately 1,600 customers. Customers can shop weekly for products, make their selections and edit their baskets until noon the day before delivery or pickup. No subscription is required, and the minimum for all orders is $30. Home delivery is available for $15, and most pickup locations are free of charge.
Farm Link Hawaii delivers every Sunday, Monday, Thursday and Friday to 14 pickup locations throughout Oahu. Selections include local produce, meat and seafood, eggs, dairy, snacks, drinks and pantry items. Farm Link Hawaii is a great option for customers who have a list of products they need and like to select the specific items they need for the coming week.
"Farm Link Hawaii is a great way to support local growers on Oahu and neighbor islands," said Mariah Raftree, sales and marketing manager for Farm Link Hawaii. "We make it easy to discover and purchase local food from Hawaii farmers, fishers and ranchers. We represent many growers that are too small for grocery stores. By shopping with Farm Link Hawaii, you are supporting many farmers throughout Hawaii.  
Oahu Fresh follows more of a traditional CSA produce box model. The company started serving Oahu residents in 2009 and offers a weekly or bimonthly subscription. Customers choose the Farmers' Market Bag, Make Your Own Bag or Vegetarian Meal Kit Bag and have the option for home delivery or pickup. Prices range from $20 to $35, and there is a $15 one-time membership fee to join.
"Oahu Fresh aims to be the best source for local food," said Amy Buglione, marketing manager for Oahu Fresh. "We provide seasonal vegetables and fruit from Hawaii and our online marketplace has a wide variety of items from over 75 local producers. Become an Oahu Fresh member to support local farms and producers while eating healthy with convenience!" 
Oahu Fresh customers receive a weekly email with information about what's coming in the next bag, including delicious recipe ideas to prepare with the items. In addition to the subscription bags, customers are able to add specialty items to their orders, including artisan culinary items, bread, jams and honey, sweets, apparel, personal care items and home goods. Oahu Fresh is an excellent option for folks who like to receive a variety of items to try and enjoy recipe suggestions. 
Even so, some customers prefer a bit of surprise, especially with the increase of home-cooking during the pandemic. Ulupono Initiative team member Keith DeMello signed up for Oahu Fresh's standard "Farmers' Market Bag" precisely to keep it a mystery.
"Letting Oahu Fresh select my produce each week has forced me to incorporate several new items into my scratch cooking," DeMello explained. "From butternut squash to rambutan to even dragon fruit, they've completely revolutionized my diet – and for the better. 
What are you waiting for? Sign up for one of these choices today and you'll be able to check the "eat healthy" box on your new year's goals list. Both your taste buds and your health will thank you. You'll also enjoy the excitement of receiving the bag each week as you vote with your dollars to connect to your community and support local farmers.
Follow Farm Link Hawaii on Instagram @farmlinkhawaii and Oahu Fresh @oahufresh.