Bill 2 puts Honolulu on the road to rightsizing parking
Jan 15, 2021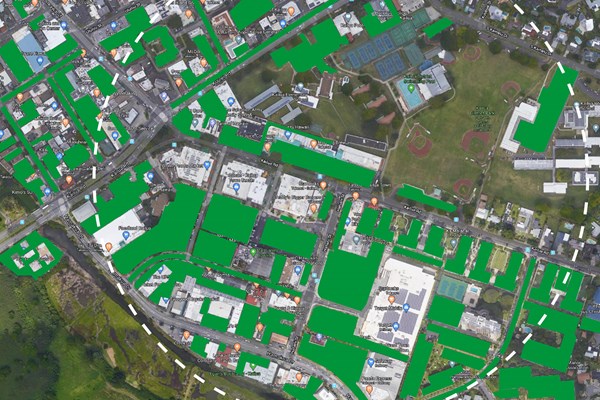 Signed by former Honolulu Mayor Kirk Caldwell on Dec. 23, 2020, Bill 2 (2020) CD1, FD2 became Ordinance 20-41, which puts into action one of the most sweeping parking reform bills enacted in the United States in decades, on par with similarly intentioned reforms made recently in major metropolitan areas like San Francisco, California, and Buffalo, New York.
The scope of its impact is unique for the size of the population it impacts and the range of geographic landscape it covers (2,100 square miles), reducing or eliminating parking minimum requirements across the entire island, including rural and urban areas.
In essence, Bill 2 updates how the City and County of Honolulu governs off-street parking to enable progress toward housing affordability, provide access to upward mobility for the next generation, and help the City better serve its future climate and environmental goals. By eliminating decades-old, outdated parking minimum requirements, Bill 2 removes the unfortunate old consequence of mandating more parking than might be needed — not to mention also improving affordability.
"The bill makes progress in the right direction, better aligning with City climate and community goals, while allowing parking to remain accessible for those who genuinely need it and not requiring it of those who don't," said Kathleen Rooney, Ulupono Initiative's director of transportation policy and programs.
Typically amounting to more than a third of one's rent, an extra $800 per month in mortgage costs, or an additional $45,000 of the cost of a home, the precious income shelled out for a parking stall may no longer make sense — especially on an island where the U.S. Census Bureau's 2018 American Community Survey found that approximately 43 percent of households own one car or less.
Efforts by cities like Honolulu toward rightsizing and better managing parking present opportunities to more dynamically utilize urban land for housing, retail and community needs – such as increasing demand for more people-oriented design and active transportation – instead of for vehicles or vehicle storage.
Click here for a comprehensive August 2020 Ulupono Initiative study on the "hidden" costs associate with parking in Hawaii.