Biki provides valuable service to Honolulu residents and visitors
Jan 15, 2021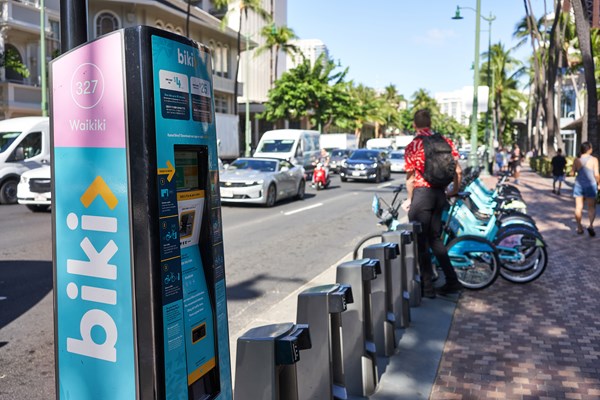 When evaluating Biki's success as a large-scale bikeshare program in Honolulu, it is fundamental to first consider its success in serving the City and County of Honolulu's goals for improving Oahu's transportation system.
"The greatest lesson learned since the launch of Biki is how the people of Honolulu value and rely on this bikeshare service," said Roy K. Amemiya, Jr., former City managing director, in a December 2020 letter to to the City Auditor. "Even during this pandemic, there are a core group of riders who continue to travel by Biki as a primary and preferred mobility option."
Operated by the nonprofit Bikeshare Hawaii in partnership with the City and Secure Bike Share, Biki's mission is to provide the public with quality, convenient, reliable and affordable bikeshare services, keeping the community's health and livability in mind. 
The City's pursuit of an "administrative nonprofit" model was, by design, based on findings from a 2014 City-funded study. This approach significantly reduced financial risk to the City by having the nonprofit shoulder the operational and financial risk, including the millions of upfront capital required to purchase the equipment. Among many supporters, Ulupono Initiative provided early grant support through the Ulupono Fund at the Hawaii Community Foundation.
Since opening for riders in 2017, Biki has been successful in meeting its goals. In January 2020, before the onset of the COVID-19 pandemic, Biki reported more than 3,150,000 total rides on its bike network, with residents comprising about two-thirds of total rides taken. According to the U.S. Environmental Protection Agency's (EPA) greenhouse gas equivalencies calculator, this prevented 3.3 million pounds of CO2 emissions from entering the atmosphere. Additionally, total Biki ridership averted the potential use of approximately 168,432 gallons of imported fossil fuel.
Besides acknowledging Biki as being a more environmentally minded mode of transportation, riders have also lauded the service's overall benefit to their health. In a recent survey conducted by Bikeshare Hawaii, 52 percent of Biki users reported exercising more often, with 27 percent reporting they even lost a few extra pounds.
Biki has met the City's goal of creating a bikeshare program that provides a low-cost, convenient, zero-emissions transportation option that is beneficial for consumers, the community and the environment. As a we continue to evaluate the program's return on investment to taxpayers, one thing is certain: Biki has proven that a bikeshare program is needed in Honolulu and that there is clear public demand for one.
For more information visit Biki's website at https://gobiki.org/about-us/.