Maui County launches Department of Agriculture web page
Feb 25, 2022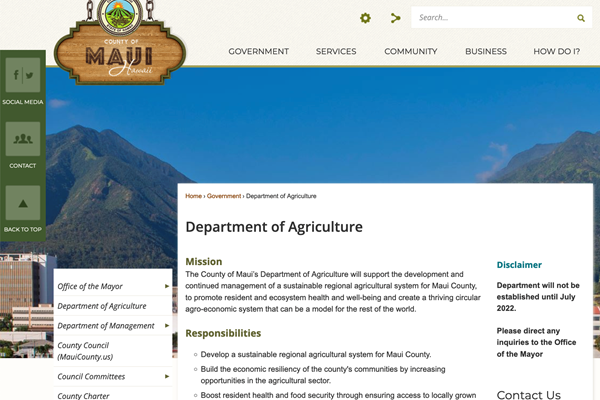 Just over a year ago, Maui County voters approved the establishment of a new county agriculture department. Today, even as it's being formed, the department already has a web presence.
The Maui County Department of Agriculture web page launched in early February as a public-facing online resource created as part of the formation of the new department, which was approved in November 2020 by voters through a Maui County Charter amendment. The department will officially launch in July 2022.
In the meantime, an agriculture working group was established in 2021 to develop initial recommendations and provide guidance for the new department, and stakeholder feedback continues to be gathered.
"I thank the members of the Agriculture Working Group for their hard work in making recommendations for this new department," Mayor Michael Victorino said while announcing the web page. "They have worked diligently to recommend the overall direction of the department, its organizational structure and possible minimum qualifications for the department director and deputy. Our aim is for this new department to support our local farmers and ranchers, help our community have greater food security, and to provide additional avenues toward economic diversification."
Ulupono Initiative recognizes the community's vote to dedicate an entire county department to agriculture as a reflection of the great importance residents place on the industry and its impact on their lives. The hope is to develop a department that meets ag producer needs with County resources.
The Maui County Department of Agriculture's charter-mandated responsibilities are to:
Develop a sustainable regional agricultural system for Maui County;
Build the economic resiliency of the county's communities by increasing opportunities in the agricultural sector;
Boost resident health and food security through ensuring access to locally grown agricultural products;
Promote healthy ecosystems through natural-resource regeneration and protection, including through advising other agencies and the Maui County Council on all programs and projects that affect the agricultural section;
Develop and implement programs to diversity and expand sustainable forms of agriculture;
Report to the mayor and council annually on the County's overall performance in meeting agriculture objectives and any barriers that could be addressed by ordinance; and
Perform other duties and functions as assigned by the mayor or managing director. 
Maui County continues to welcome feedback from the community and stakeholders, who invited to submit recommendations and ideas to: Mayors.Office@mauicounty.gov
Link to the Maui County Department of Agriculture web page here.