Honolulu unveils charging station for electric TheBus fleet
Feb 25, 2022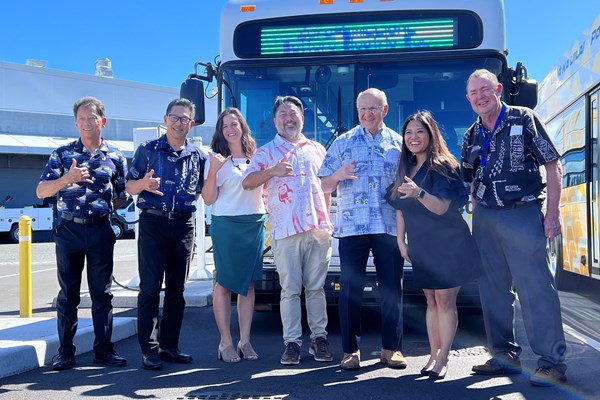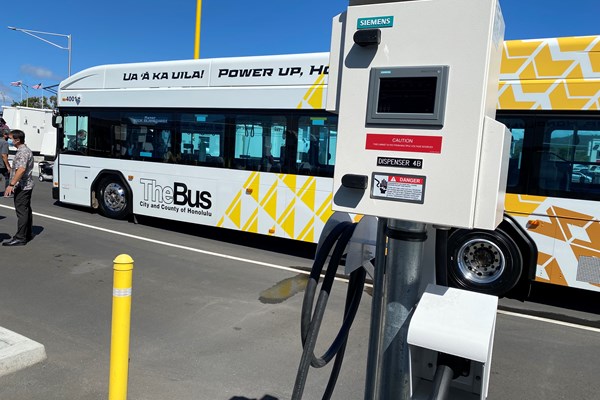 The City and County of Honolulu's is powering up its bus system.
In a move designed to reduce Honolulu's dependence on fossil fuels and harmful greenhouse gas emissions, the City this week unveiled new electric vehicle charging stations at the Kalihi-Palama Bus Facility on Middle Street to serve its zero-emission TheBus fleet.
At a special event held on Feb. 22 to confirm all 17 City electric buses as operational, Mayor Rick Blangiardi applauded the joint effort between the Honolulu Department of Transportation Services (DTS), Honolulu Department of Design and Construction, and Oahu Transit Services, which worked with consultant Ronald N.S. Ho & Associates, Inc., and contractor Paul's Electrical Contracting, LLC to complete the project.
The mayor was joined by Councilmember Radiant Cordero and representatives of several City departments, Hawaiian Electric, and others. These included DTS Director Roger Morton; Robert Yu, president and general manager of Oahu Transit Services; Nicola Hedge, deputy director of the Office of Climate Change, Sustainability and Resiliency; and Allyn Lee of the Department of Design and Construction.
"The real investment is in the people that you see walking to the bus stops here," said Councilmember Cordero, chair of the Council's Committee on Transportation, Sustainability and Health. "The investment is something that is so real. They see us investing not just in our roads, not just in our bus stops, but they see it in the types of vehicles that we are providing to them, the type of future that we are providing for future riders. They see that we care about our climate future and a just future for all of us."
The zero-emission electric buses stand out among their gas-powered counterparts, notably because they run much quieter and without the exhaust often associated with municipal buses. They also feature the fitting moniker, Ua 'A Ka Uilua, Power Up, Honolulu!
The charging station site was built out between December 2020 to October 2021 includes nine 150-kilowatt Siemens electric bus charger cabinets with 25 remote dispensers and related electrical infrastructure (transformer, electrical distribution cabinet, underground conduits and wiring) at the Ready Line area at the Kalihi-Palama Bus Facility. The charging facility is able to charge nine buses simultaneously.
The charges will draft from an Oahu electricity grid that is increasingly powered by renewables. In addition, charging will be scheduled during the day to take advantage of peak solar power generation on the grid — and an attractive rate from Hawaiian Electric. Hawaii Energy also secured a $35,000 energy credit toward the project, which was credited to the electricity bill for the site.