$20,000 grant helps strengthen Aloha Harvest's community food distribution mission
Dec 08, 2020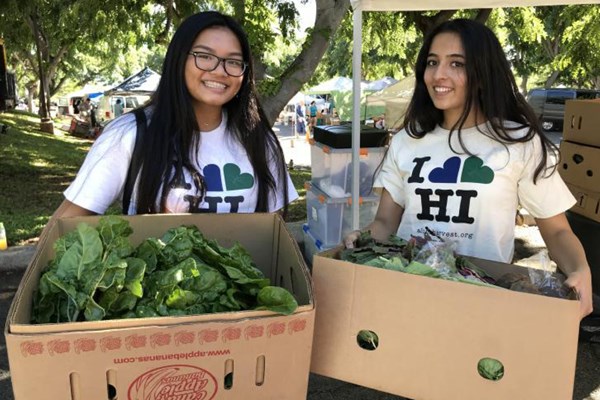 Provided through the Ulupono Fund at the Hawaii Community Foundation, a recent $20,000 grant to Aloha Harvest will help the nonprofit purchase food products from local farmers and strengthen local food production in Hawaii. Aloha Harvest rescues quality, donated food and delivers it free of charge to social service agencies feeding local residents in need of food.
At the start of the COVID-19 pandemic, Aloha Harvest saw the important community services it provides immediately impacted as need to support the local agriculture industry and its farmers and producers quickly grew critical. As many restaurants, hotels, hospitality partners and other regular buyers of local produce statewide were forced to reduce their purchases or close operations, Aloha Harvest subsequently lost many of its most reliable sources of the donated food it distributed to community members in need.
In response, Aloha Harvest collaborated with fellow community-serving organizations Chef Hui and Pacific Gateway Center to get meals to keiki, kupuna and families in need. Working together, the trio of organizations successfully collected a record amount of excess food and offered multiple pickups and delivery options. As of August 2020, Aloha Harvest has achieved the distribution of 2.3 million pounds of food to Hawaii residents.
Finding solutions to food recovery has always been at the forefront of Aloha Harvest's mission. Its origins trace back to 1999 when the Hauoli Mau Loa Foundation saw both the volume of local food waste and the growing homeless population in Hawaii. The foundation conducted a feasibility study to consider the unique challenges surrounding food insecurity and waste in Hawaii, and it engaged in discussions with potential food donors, recipients and community leaders. Founded as a result of the study, Aloha Harvest is based on a service model created by City Harvest, a highly successful and internationally replicated food recovery system developed in 1982.
Ulupono Initiative is committed to supporting programs like Aloha Harvest working to improve quality of life, food access and sustainability where they are able.
To learn more about Aloha Harvest, visit AlohaHarvest.org/covid-19.