WAI convenes stakeholders to map pathway for progress toward cesspool conversions
Aug 31, 2022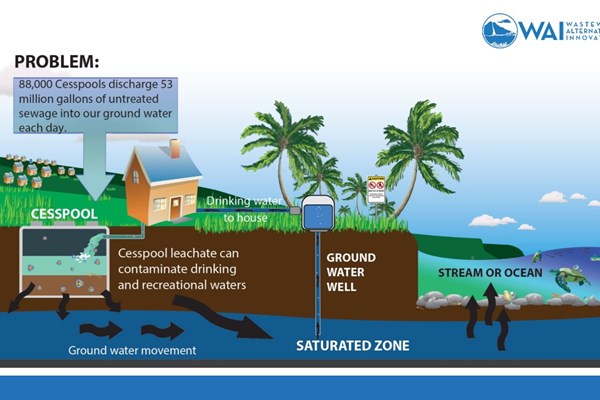 Image courtesy of WAI: Wastewater Alternatives & Innovations
Last month, the 3rd Annual Innovations in Sanitation Convening brought together Hawaii leaders and stakeholders to bring solutions to the table in addressing the ongoing challenge of cesspools in Hawaii.
The event was hosted by WAI: Wastewater Alternatives & Innovations, which works to protect water quality, reduce sewage pollution, and restore healthy watersheds by providing innovative, affordable, and eco-friendly solutions to waste and wastewater management for all people. WAI's vision is to help Hawaii homeowners and communities manage the complex process of upgrading and failing septic systems across the state to new systems that are affordable, efficient, and better for the environment.
The critical importance of the issue and its impact on water quality and public health was emphasized by the presence of Lt. Gov. Josh Green, state Sen. Chris Lee, and Maui County Councilmember Kelly King, who each offered remarks and participated in the discussions. 
"It's encouraging to see the growing awareness of Hawaii's cesspool and wastewater issues," said Stuart Coleman, executive director and co-founder of WAI. "Now, our state leaders recognize the need to convert these cesspools and reduce the environmental and human health threats they pose while also seeing the opportunities for infrastructure investment, workforce development, innovative technologies, and water protection."
The day's agenda also included innovative technology solutions and presentations by:
Participants discussed a pathway for progress in cesspool conversions, including breakout sessions on financing conversions, innovative technologies, and policy solutions. Highlights included consideration of advanced On-Site Sewage Disposal Systems (OSDs) to reduce pollution, community-scale systems to reuse resources, and pressurized liquid-only sewer systems to decrease conveyance costs.
WAI expressed support for several policy changes, such as reinstating and improving tax credits for cesspool conversions, creating a cesspool fee and subsidy fund, and triggering cesspool conversions at property sales. Cesspools are essentially deep pits that lack the ability to filter waste, eventually contaminating the surrounding soil and groundwater. Installation of a leach field, where wastewater undergoes a filtration process, is typically a costly part of cesspool conversion projects. To increase the return on investment, WAI has proposed to permit smaller leach fields when effluent quality is high, if incineration toilets are used, or if a graywater system is used.
With the adjournment of the 2022 legislative session, the state Legislature passed House Bill 2195, which establishes a grant program for low- and moderate-income property owners or Department of Hawaiian Home Lands lessees to assist with the costs of cesspool conversions on properties that are near shorelines or other water sources. At the county level, Kauai is developing a plan for grant-funded conversions through the Kauai County Housing Agency.
In addition, the discussion surrounded the U.S. EPA's Clean Water State Revolving Fund and whether it can be used creatively to fund decentralized projects, as well as the potential for leveraging USDA funding for rural projects throughout most of Hawaii.
Ulupono Initiative is pleased to support WAI's efforts, including a recent $25,000 grant, provided through the Ulupono Fund at the Hawaii Community Foundation, to support the annual convening, production of a study to increase adoption of nature-based treatment systems, and weekly meetings with Work-4-Water partners. 
Funded in 2022 by Congressionally directed spending and a grant from NSF International, the new Work-4-Water initiative focuses on workforce development, infrastructure investment, cesspool replacement, and water protection. Through the initiative, WAI is actively working with the University of Hawaii Community Colleges to create training courses for new jobs in the wastewater sector.  
Presentation slides from the July 2022 convening are available here. To view a video recording of the event, visit WAI's YouTube channel.
UPDATE: In a recent Civil Beat IDEAS essay, WAI's Stuart Coleman explores a rare opportunity to become a national leader in new sanitation technologies and policies. Read "A Dirty Cesspool Secret And A Cautionary Tale For Hawaii" in Honolulu Civil Beat >>
WAI: Wastewater Alternatives & Innovations is a 2022 recipient of the Pacific Business News "Fire Award," a member of the Hawaii Department of Health's Cesspool Conversion Working Group, and at the national and international levels, serves as a member of the Decentralized Wastewater Innovation Cohort and, a founding partner of the Ocean Sewage Alliance. For more information, visit waicleanwater.org.