Hidden costs of 'free' parking revealed at UH Manoa Better Tomorrow speaker series
Aug 30, 2021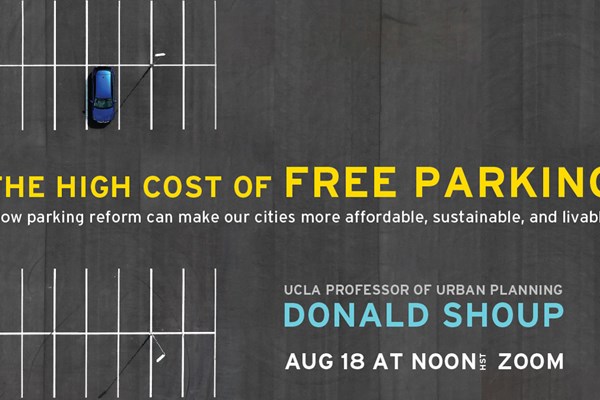 In Hawaii, many expect unfettered access to their cars and free parking once they reach their destinations. Having both is something we often take for granted, not realizing our dependence comes with a cost. It seems even "free" parking has a price tag.
In his landmark book "The High Cost of Free Parking," author Donald Shoup writes that many drivers don't always see the hidden costs in free parking — an issue perpetuated by antiquated parking laws in support of a car-centric lifestyle.
Shoup, a distinguished research professor in the University of California at Los Angeles Department of Urban Planning, was the featured speaker of the University of Hawaii at Manoa's continuing Better Tomorrow speaker series on Aug. 18, 2021. 
Presented by the Hawaii Community Foundation, Kamehameha Schools and the University of Hawaii at Manoa (UHM), this most recent event in the speaker series was sponsored by the Hawaii Climate Change Mitigation and Adaptation Commission, Ulupono Initiative and the University of Hawaii Economic Research Organization (UHERO). Co-sponsors included the UHM College of Social Sciences, Department of Urban and Regional Planning, Institute for Sustainability and Resilience, Public Policy Center, and William S. Richardson School of Law.
Shoup illustrates that even simple modifications to parking, such as removing outdated minimum requirements for the construction of off-street parking lots and charging market prices for street parking, can:
drive down housing costs
bolster public transportation
decrease carbon output
advance social justice
foster more enjoyable places to live and work
Shoup received his undergraduate degree in electrical engineering and doctorate in economics from Yale University in New Haven, Connecticut.
"Residents pay for parking through higher prices for housing. Businesses pay for parking through higher rents for their premises. Shoppers pay for parking through higher prices for everything they buy. We don't pay for parking in our role as motorists, but in all our other roles — as consumers, investors, workers, residents and taxpayers — we pay a high price. Even people who don't own a car have to pay for 'free' parking."
— Donald Shoup, from his book, "The High Cost of Free Parking"