Lihue Placemaking, Forestry & Gardens Initiative continues to take shape
Apr 24, 2023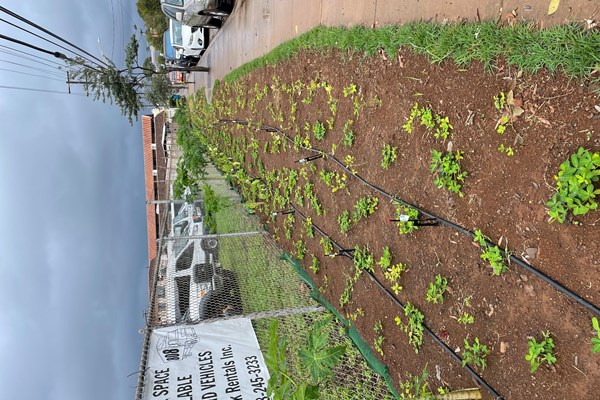 The Lihue Placemaking, Forestry & Gardens Initiative project is a two-year effort designed to build valued community green spaces in Kauai's civic and commerce center. The project is developing a shared vision for future green infrastructure along Rice Street. It is funded through a Partners for Places grant and is being spearheaded by the Rice Street Business Association and Better Block Hawaii, with support from the County of Kauai Office of Economic Development and additional funding through the Ulupono Fund at the Hawaii Community Foundation. The project team is also working with grassroots organizations and local artists to design and implement the project.
"In less than a year, our team has begun developing an urban farm and community garden along Rice Street," said Abbey Seitz of Planning for Community LLC and consultant for Better Block Hawaii. "We have built a volunteer hui to steward the garden and other future greenery, surveyed residents about their preferences for street trees, installed three bus shelter murals, collaborated with students from the University of Hawaii to design future green infrastructure and streetscape improvements, and held multiple community dinners to engage and gather project feedback from Lihue residents. We're not only improving the built and natural environment of Lihue, but also providing opportunities for social interactions through public programs and events. Knowing and interacting regularly with your neighbors is an often overlooked but critically important feature of any vibrant, resilient community."
Lihue was strategically selected for the project to address economic disparities. The community, which is considered the one of the lowest-income areas of Kauai, has benefited from revitalizations over the past 20 years but many of the projects have not had a direct impact on low-income working residents. Improvements focusing on pedestrians and the built environment have taken shape and directly serve the population, many of whom have been overlooked by planning and policy that is automobile centric.
"Ulupono is very excited to support the Lihue Community Placemaking, Forestry & Gardens Initiative and its efforts to build a shared vision around green infrastructure projects that help make Lihue more inviting and accessible, particularly to those walking, biking and rolling," said Kathleen Rooney, Ulupono's director of transportation policy and programs. "One of the great things about this project is the forging of partnerships to help support the long-term revitalization of Lihue. We anticipate this model also being replicated in communities across Hawaii."
If you'd like to get involved with the project, you can sign up to volunteer every first and third Tuesday of the month from 4:30 to 6:30 p.m. at 4181 Rice Street (808 Truck Rentals) in Lihue.