Study offers recommendations to improve Hawaiian Electric renewable energy interconnection processes
Apr 19, 2021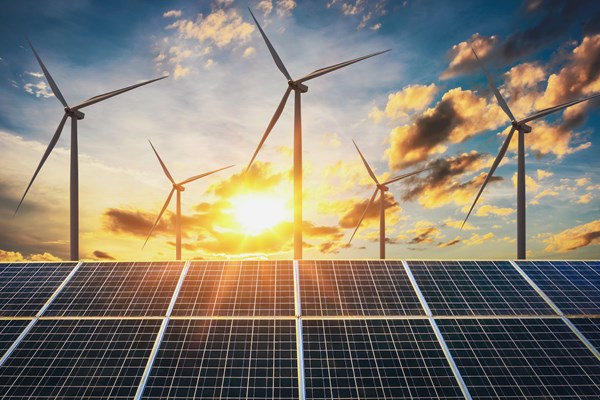 Hawaii has much to gain by accelerating progress toward its renewable energy goals.
The state's continued reliance on fossil fuels to produce electricity is environmentally harmful—not to mention economically volatile. Additionally, energy rates in Hawaii continue to rank as some of the highest in the nation, and are one of the largest expenses for residents and local businesses. The good news? Both carbon emissions and energy costs are lowered when Hawaiian Electric, the electric utility for most of the state, adds and uses renewable energy generation to serve the state's energy needs.
These benefits are only realized if renewable energy projects can easily interconnect to the electric grid. Interconnection is the process of "plugging in" to the electric grid to provide electricity for utility customers. Improving interconnection issues—ranging from timeline delays to cost overages—is key to ensuring that renewable energy projects can reliably provide clean and affordable energy as Hawaii continues to transition off of fossil fuels.
To assist the Hawaii Public Utilities Commission (PUC) in addressing the utility's longstanding interconnection issues, Ulupono Initiative recently submitted a study proposing solutions to improve the interconnection issues that have recently impacted renewable energy projects. The recommendations were specific to reducing high costs and unsubstantiated delays that renewable energy developers continue to experience despite previous directives from the PUC. These interconnection issues, if not managed, will unnecessarily compromise the future of renewable energy projects that are essential to Hawaii's energy transition.
The study also offered recommendations in several areas related to Hawaiian Electric's procurement process.
A March news release from Ulupono Initiative, "Ulupono Initiative Offers Recommendations to Improve Hawaiian Electric's Renewable Energy Interconnection Processes," suggested focusing on five key areas:
Interconnection costs
Interconnection delays
Accurate and verifiable information to developers
Transparency of interconnection timelines
Processes to settle disputes regarding interconnection costs and delays
The chart below offers a more detailed view of the issues challenging the utility's current interconnection processes and appropriate solutions for the future.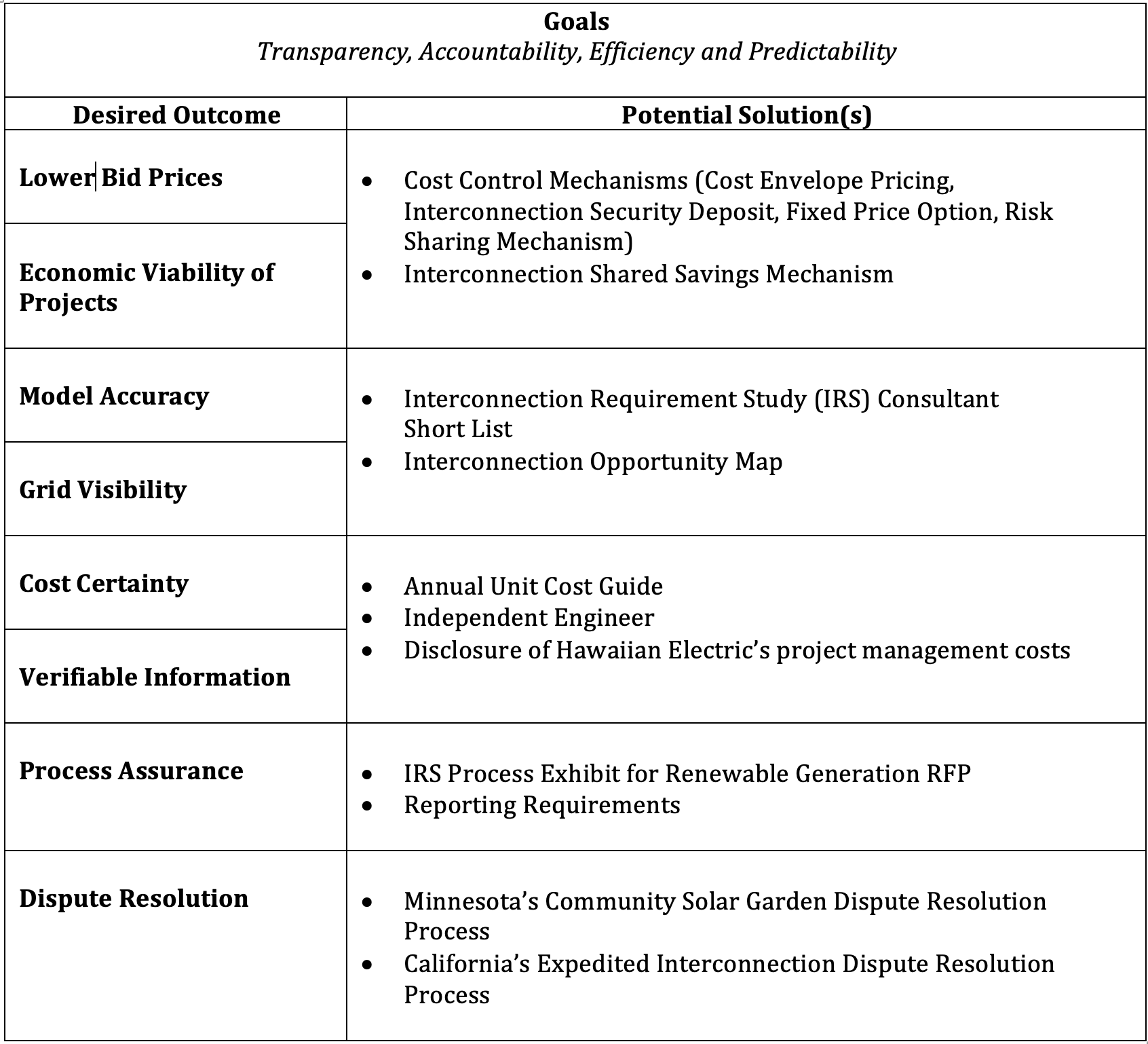 The importance of this issue cannot be understated. In September 2022, Oahu will retire its largest fossil fuel power plant, the coal-fired AES Power Plant, which provides 180 MW of energy (serving roughly 16% of Oahu's electricity needs) to the island's electric system. While the retirement of the AES Power Plant will greatly serve Hawaii's energy policy goals, it will be critical that renewable energy projects are positioned to quickly interconnect to the electric system to compensate for the loss of generation from the plant.
As a parallel effort to the PUC's call for recommendations on improvements to the utility's interconnection process, Gov. David Ige recently signed an executive order (Executive Order 21-01) establishing a task force to identify opportunities to expedite timelines and remove barriers for renewable energy projects that are intended to replace the AES Power Plant.
On April 7, 2021, the PUC issued an order responding to stakeholder's recommendations, acknowledging Ulupono Initiative's contributions, noting that the PUC will look to implement recommendations from the study to improve the utility's existing interconnection process.
Want to learn more about interconnection and Ulupono Initiative's recommendations? Explore the following resources:
Comments of Ulupono Initiative LLC on Hawaiian Electric's Interconnection Process and Transition Plans for Retirement of Fossil Fuel Power Plants
Interconnection and RFP Improvement Recommendations
Rush is on to get Hawaii's renewable energy online (Honolulu Star-Advertiser, April 13, 2021)