Lessons of the pandemic continue, one year later
Apr 19, 2021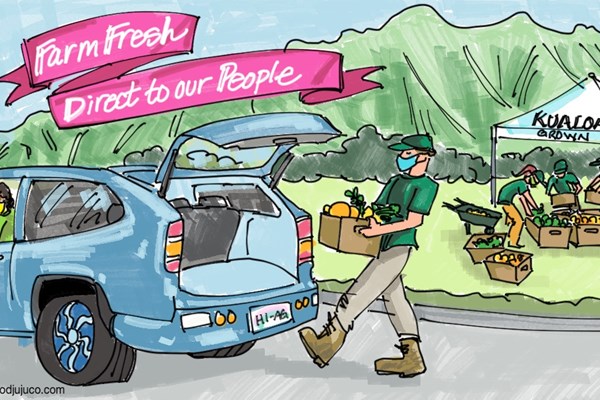 In the early weeks of the COVID-19 pandemic, Ulupono Initiative launched a then-weekly story series spotlighting Hawaii farmers, ranchers and other food producers as they adapted to the sudden disruption to Hawaii's food distribution network. The purpose of the series was to bring attention to their crucial efforts to sustain our communities during the novel coronavirus pandemic.
One year later, we are circling back with them to see how they are doing today, and we'll be publishing those ongoing stories over the next several months. We'll be asking whether their perspectives have shifted since 2020, what they would have done differently with hindsight, and what is most needed now to ensure success.
Kualoa Ranch hopes momentum for local agriculture will continue as 'new normalcy' comes into view
On June 4, 2020, Kualoa Ranch on Oahu was just beginning to welcome guests back after shuttering for the first two months of the lockdown. Back then, Taylor Kellerman, Kualoa Ranch's director of diversified agriculture and land stewardship, talked with us about Kualoa's swift shift to diversify its operations—which cross agricultural, retail, visitor attraction, and film industries—and how the ranch might serve as a community model that continued well beyond the pandemic. We recently checked back with Kellerman for a chat about Kualoa Ranch's progress since then.
In general, how is your operation doing today? 
Our tourism operations are definitely on the comeback. While we are not at pre-COVID numbers quite yet, we have reopened to seven days a week and our inventory has been full most days. Our agriculture operations are still charging forward, and our brick-and-mortar farmers market (located in an old buffet hall) has been wildly successful. Our weekly newsletter now reaches over 2,000 households island-wide, and along with our own product lines we also feature items from over 10 partner farms. We have also found success with the introduction of new value-add product lines including taro, ulu and sweet potato chips, as well as various dips and jerkies.
Have your sales recovered to pre-pandemic levels?
We have seen and continue to see an increased interest and associated sales figures in regards to our agricultural product offerings. Having a direct-to-customer venue and relationship has really helped folks access our products more easily.
Has your perspective shifted since your interview with us last year?
I continue to hang my hat on the silver lining that this has been really good for local agriculture. As the "new normalcy" comes into view though, I do hope that this momentum will continue.
If you could send a message back through time, what would you tell yourself at the start of the pandemic (March 2020) to help your operation make it through? 
Never let a good crisis go to waste. Treat what seems like a total life disruption as an opportunity to improve through this change with your family, friends and workplace. Hiking is better than bowling anyways.
What is most needed now to succeed? 
Philosophically, I think humankind, as a collective, needs to remember we are all in this together, and compassion, understanding and taking the time to see life through others' perspectives is really important. Practically, I think local ag needs boosts like productive subsidies and better collective infrastructure. We should look to initiatives like Ulupono and their work helping farmers through the pandemic as examples of seizing the opportunity and finding ways to move forward in a productive manner.
Visit Kualoa Ranch at www.kualoa.com.