Biki implements service changes due to COVID-19
Apr 19, 2021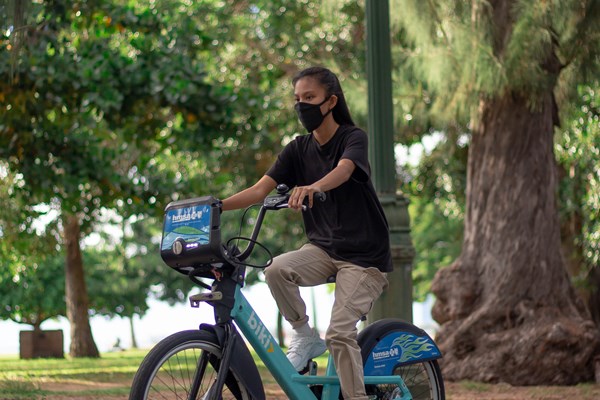 In its evaluation of Biki in January, Ulupono Initiative emphasized the importance of considering how the large-scale city bikeshare program serves the City and County of Honolulu's transportation system goals. According to nonprofit Bikeshare Hawaii, which manages Biki, the service has logged almost 4 million rides in total, and Biki members report that they now drive 49% less since joining Biki.
Still, Biki's success has not shielded the program from the economic realities of the ongoing COVID-19 pandemic. This week, Bikeshare Hawaii announced service changes effective April 15 that include the phased decommissioning of many Biki stations over the next few months. The actions are being taken to help the program continue to operate and provide urban Honolulu residents with a low-cost public form of transportation. Biki is an important, successful tool for accomplishing the city's climate change and resiliency objectives. Ideally, there would be sufficient resources to double or triple its service versus cutting service, but the prolonged pandemic has impacted the revenue stream of many businesses.
"When the state shut down in March 2020, Biki was deemed an essential service and continued to operate 24/7 to support residents with picking up food and supplies, commuting and exercising," said Bikeshare Hawaii Executive Director Todd Boulanger in the announcement. "However, Biki cannot sustain the current service level when 2020 revenues from fare-paying customers was only just over half of 2019 revenues. These service changes are necessary and based on the forecast that the pandemic will continue to reduce revenue throughout 2021. This move will conserve Biki's remaining resources as Honolulu anxiously waits for commercial, tourist and office activity to fully recover in the next couple of years."
This month, Biki will begin decommissioning six stations in the first of what it says will be multiple reduction phases among its 130 Biki Stops in 2021. The six stations are:
Station 102 – American Savings Bank Headquarters – Kalihi

Station 121 – Hawaii State Capitol – Downtown Honolulu

Station 219 – WorkPlay – Kakaako

Station 325 – Walina Street – Waikiki

Station 410 – Cartwright Neighborhood Park – Makiki

Station 552 – 3660 On the Rise – Kaimuki
Operated by nonprofit Bikeshare Hawaii in partnership with the City and Secure Bike Share, Biki's mission is to provide the public with quality, convenient, reliable and affordable bikeshare services, keeping the community's health and livability in mind. Since launching in 2017, Biki has shown that bikeshare can work in Honolulu. Prior to the pandemic, the National Association of City Transportation Officials ranked Biki among the top-ridden bikeshare systems in the nation from 2017 to 2019, alongside New York City, Chicago, the San Francisco Bay Area, the District of Columbia and Boston.
According to a Biki, more than 80% of all rides in 2020 were taken by Oahu residents versus 54% in 2017. A Biki member survey conducted in July 2020 found 79% of respondents saying they continued to ride Biki because they considered it the safest form of public transportation during the pandemic.
For the most up-to-date information on Biki Stops and bike availability on Oahu, download and check the Biki app and follow Biki on Facebook, Instagram and Twitter.