Accept the Hawaii Bike Challenge, coming in May
Apr 19, 2021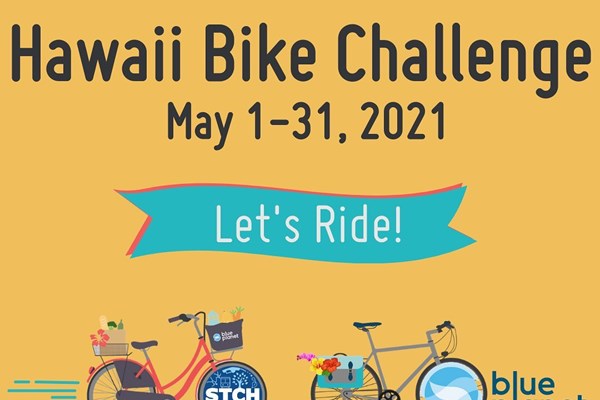 Ready to get in gear to support cleaner forms of transportation?
Ulupono Initiative is pleased to sponsor the Hawaii Bike Challenge, a fun and friendly cycling challenge open to Hawaii residents throughout May. The monthlong challenge highlights the benefits of biking as a clean, more active mode of transportation that reduces our state's dependence on imported fossil fuels.
Participating in the Hawaii Bike Challenge is easy whether you consider yourself a novice or experienced cyclist. Feeling competitive? Build a team and compete against other challenge teams and individuals, or just participate for the pure enjoyment of it.
Registration is free and participants are encouraged to invite others, set biking goals, and spread the love of biking.  
To participate, follow these steps:
Register via the Hawaii Bike Challenge webpage on Love to Ride.
Create a bike team or join an existing team.
Ride a bike anywhere and anytime during the monthlong challenge from May 1 to 31. 

Record your rides on the Love to Ride platform to earn points.

Recruit your coworkers and friends to ride and join the challenge, too. 

Competition winners will be feted with the glory of recognition and immortalization on the Love to Ride website.
Earn points on the challenge leaderboard by logging your rides on the webpage or via integrated apps such as Strava and MapMyRide—and by encouraging others to join in. The more points you earn, the higher you and/or your team will rise on the leaderboard.
Participants registering by May 1 will be entered in a giveaway for a two-night stay at the Queen Kapiolani Hotel Waikiki Beach, including a $50 gift card for the hotel's Deck restaurant. Log your first ride anytime between May 1 and 31, and you'll be entered to win one of two Patagonia backpacks with Patagonia postcards designed by local artists.
Think you're up to the challenge? Then sign up now!
For more information about the Hawaii Bike Challenge and how you can participate, visit https://www.lovetoride.net/hawaii.