$20,000 grant helps Aloha Harvest grow its mission to feed Hawaii's hungry
Apr 19, 2021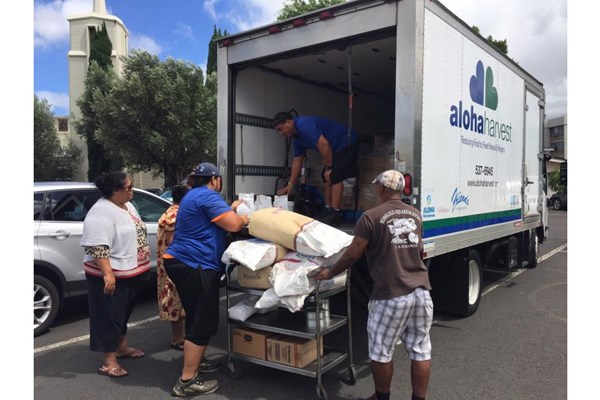 A $20,000 grant provided through the Ulupono Fund at the Hawaii Community Foundation will help nonprofit Aloha Harvest in its mission to supply free, quality food to our community's most vulnerable residents and reduce food waste. Oahu-based Aloha Harvest is the one of the state's largest food rescue and redistribution organizations.
Since its 1999 founding by the Hauoli Mau Loa Foundation, Aloha Harvest has saved more than 26.8 million pounds of good-quality perishable and nonperishable foods—often excess food items from banquets, restaurants and other sources—from being needlessly and wastefully sent to landfills.
According to national nonprofit hunger-relief organization Feeding America, one in nine people in Hawaii struggles with hunger, including more than 55,000 children. In addition, one in five Hawaii residents benefits from resources provided by community food banks and pantries. Through strong partnerships with Hawaii-based local food banks, Aloha Harvest plays a critical role in assuring safe, nutritious foods make it to those in need to help address Hawaii's silent hunger crisis. For extensive data on how Aloha Harvest's efforts are having an impact, visit alohaharvest.org/data/.
Ulupono Initiative is committed to a more sustainable, resilient Hawaii, including increasing local food production for local communities.
For more information about Aloha Harvest and how to get involved with its work, go to alohaharvest.org.