Women Driven Mobility: Rethinking the Way the World Moves
Apr 25, 2022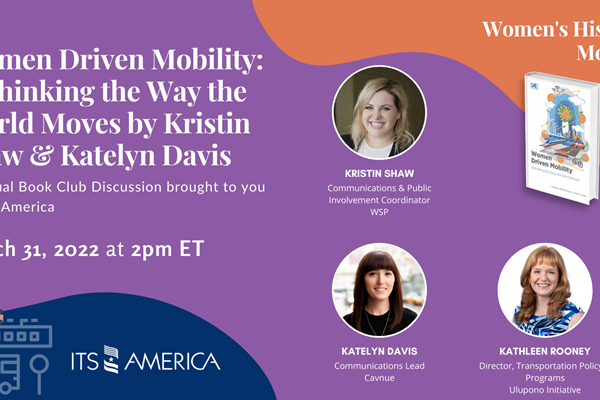 In celebration of Women's History Month in March, ITS America invited me to speak as part of a virtual book club discussion of "Women Driven Mobility" co-authored by Katelyn Shelby Davis and Kristin Shaw. Ulupono Initiative's 2020 A2CES report was featured in the book, outlining strategies that would help Hawaii chart its own autonomous vehicle and mobility future — ensuring it is Accessible, Automated, Connected, Electric, and Shared (A2CES). The co-authors, along with myself and Gloria Jeff from the Minnesota Department of Transportation's Rethinking 1-94 program, discussed our experiences as women in transportation and the need to have more diverse voices at the decision-making table to create a mobility system that works for all its users. 
Among the topics was how most transportation data and planning revolves around commute trips, which excludes a lot of other important activities and trips that folks make – about 70% of them or so. The transportation system also mostly focuses on vehicle travel, so if you aren't in a vehicle — or don't own one — then the system likely isn't serving you.
At the same time, if you don't own a car or use one, you are still paying into that system. The result is a transportation system that caters to those who can afford cars on the backs of those who can't.
Making matters worse, it's more dangerous outside of a car than 20 years ago due to how much people drive and that vehicles have gotten much larger. Coupled with gas emissions contributions to climate concerns, it's clear that our transportation system is not serving us well.
Many think we can just electrify our current system and that will solve the problem. In reality we would need to come up with an additional 33% of renewable energy resources to do so, and that involves grid updates, new land resources, and more!
What we do need is more people choosing to walk, bike, and roll in our communities. That will take making the system safer for them. It also will require changes in how we make decisions around land-use and transportation investments — no small feat.
In order to make our communities safer, more sustainable and more just, we need our community members to demand more space for walking, biking, and rolling – and this means no longer prioritizing the convenience of car drivers above all other modes. Only then will we be able to shape a future for Hawaii that provides more choices for the next generation in how they get from place to place, rather than more roads, higher costs, and gridlock.
By: Kathleen Rooney